Home Office pays for Syrian refugees' schooling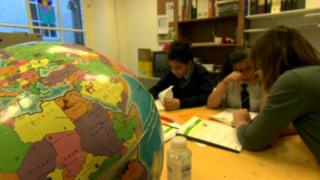 The Department of Education has received almost £650,000 to educate Syrian refugee children after a year-long delay, it has confirmed.
The payment was due from the Home Office under the Syrian Vulnerable Persons Relocation Scheme (SVPRS).
As part of the scheme, up to £4,500 is provided towards each Syrian child's education costs for one year.
In response to a BBC query, the department said it received £644,175 from the Home Office on 26 October.
That was the first funding it had received under the scheme since August 2016.
Some 253 Syrian children between the ages of three and 18 had settled in Northern Ireland under SVPRS up until September 2017.
The new money was subsequently allocated to the Education Authority (EA) in November to be distributed to schools with Syrian pupils.
When asked why there there had been a delay of more than a year in the funding, DE said all departments had been "actively engaged" with the Home Office in finalising a memorandum of understanding.
"As soon as this was finalised, the Home Office released funding directly to all departments involved," it added.
Refugee arrivals
According to an email from the EA to school principals, the memorandum of understanding means that the Home Office will provide education funding for all children aged between three and 18 in current and future groups of SVPRS arrivals to Northern Ireland.
"This funding will be paid for children aged 3-18 for a period of one year only, following their arrival with subsequent years' costs being met from the main education budget," it said.
Schools will receive £4,050 of the £4,500 paid for each child aged 5-18 which "can be utilised to address the spectrum of educational needs," according to the EA email.
They are to get £2,025 for each child aged three or four.
Some 703 Syrian refugees have arrived in Northern Ireland since the first group arrived in December 2015.