£800k worth of legal highs seized in County Armagh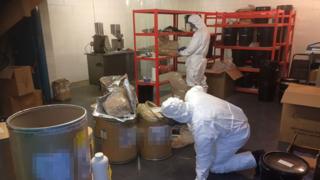 More than £800,000 of psychoactive substances have been seized during searches in Portadown and Lurgan.
Psychoactive substances are drugs formerly known as legal highs. Police say it is one of the largest ever drug seizures in Northern Ireland.
A 35-year-old man has been released on bail after being questioned on suspicion of drugs offences.
Officers conducted a search of a house in Portadown on Tuesday, where they removed items for further examination.
A number of unknown substances were also discovered and are being examined by specially trained officers.
A further search is being conducted at a business in Charles Street in Lurgan.
There, police have seized a further quantity of psychoactive substances worth an estimated £400,000, as well as a quantity of tablets and two industrial sized tablets presses.
Police had seized a barrel containing a large quantity of suspected new psychoactive substances was seized, said Det Insp Pete Mullan.
"The barrel was to be delivered to an address in Northern Ireland and yesterday detectives visited that address and arrested a man," he said.
"We also uncovered a number of unknown substances and they will be examined by specially trained officers after being removed for further examination.
"We want to ensure that we are doing everything possible to prevent the supply of drugs and arrest those involved while at the same time making people aware of the real dangers they pose to their health," he added.