NI paper review: Trials, tariffs and 'Paddy' long legs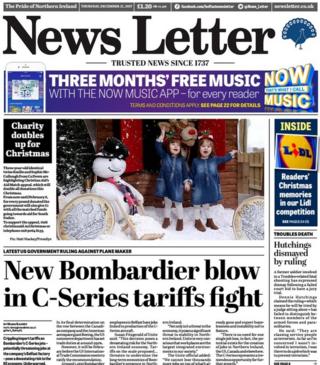 The collapse of a trial involving two police officers, US tariffs against Bombardier and new species of "Paddy" long legs make Thursday's papers.
The Belfast Telegraph leads with criticism of the Police Ombudsman after a judge halted the trial of two police officers.
The officers were accused of perverting the course of justice.
The Telegraph says the case collapsed over video footage captured on a mobile phone.
It says an Ombudsman investigator had been told the original footage had been lost, but did not tell this to defence lawyers.
Mark Lindsay, chair of the Police Federation, tells the paper: "The office of the Police Ombudsman is meant to operate to the highest standard of investigation.
"In this instance, it fell far short of that standard."
On its front page, the News Letter carries a union warning that "crippling" import tariffs on Bombardier C-Series jets pose a devastating risk to the Northern Ireland economy.
In its final determination, the US Commerce Department department said it will impose duties of 292% after a petition from rival American company Boeing.
Susan Fitzgerald of the Unite union says: "Tariffs on the scale proposed threaten to undermine the long-term economics of Bombardier's presence in Northern Ireland.
"Not only is it a threat to the economy, it poses a significant threat to stability in Northern Ireland."
Tensions between unionists and Irish Foreign Affairs Minister Simon Coveney continue to make the front pages.
"Season of ill will from DUP towards Dublin" is the Irish News headline, as it says the DUP have launched fresh attacks on the Irish government.
It says DUP deputy leader Nigel Dodds has accused the Irish government of "loose, inaccurate and misrepresentative language" in remarks about its role in Northern Ireland decision-making if devolution is not restored.
His party colleague Ian Paisley Jr asked if the British government should "slap down" Mr Coveney for comments he says "undermine confidence among unionists".
Both the News Letter and the Belfast Telegraph report on two break-ins at a Free Presbyterian and a Catholic church in Fivemiletown, County Tyrone.
A Christmas party at a school beside Clogher Valley Free Presbyterian Church had to be cancelled as a result of the raid, in which a camera and £450 in cash were stolen.
The Irish News says that Bob Geldof has donated a "vast archive" of material from the Band Aid Africa famine relief effort to the Irish state.
Geldof and co-writer Midge Ure's 1984 song "Do they know it's Christmas?" raised £8m for famine relief in Ethiopia.
"This then is our thanks and our gratitude to Ireland and the Irish," Geldof says.
The News Letter has the story of a Bible that belonged to a World War One soldier being returned to his son.
The Bible was found in a chest of drawers in a second-hand furniture shop in Fintona, County Tyrone in the 1940s by Ernest Crawford.
It originally belonged to Lance Corporal Ernest RL Chambers of the Royal Fusiliers and contained inscriptions to his son Laurence.
Seven decades later, thanks to the help of staff from Ballymoney museum, Mr Chambers was able to hand the Bible over to Laurence.
"Our family is very grateful that Ernest kept the Bible safe all this time and we are very thankful for his efforts in seeking out the family to return it," Laurence said.
Finally, if you're scared of spiders you may want to stop reading now.
Three new species of everyone's favourite creepy-crawlies have been discovered in Northern Ireland.
"It's Paddy long legs... Ulster is home to three new species of spider" is the headline in the Daily Mirror and the story is also covered in the Belfast Telegraph.
The three new species are the Tree comb-foot spider, tree H-weaver spider and my personal favourite the Arcane tongue spider.
They are to be added to the list of 292 spider species known to exist in NI.
Expect to find a huge one scuttling around your home some time soon.