Belfast man wins UK nursing prize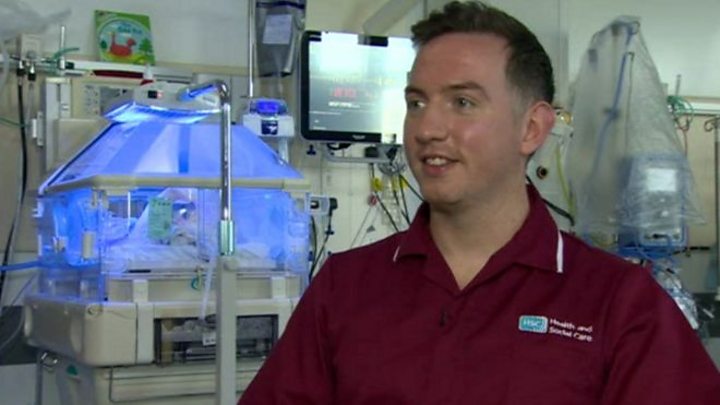 A nurse from Craigavon Area Hospital is celebrating after being awarded UK Neonatal Nurse of the Year.
The prize is for outstanding service in the neonatal community, and Colm Darby hopes the recognition it has brought will encourage other men to take up the profession.
Mr Darby, who is 32 and from Belfast, has worked with newborn babies who require intensive care for seven years, and is an advanced neonatal nurse practitioner for the Southern Health Trust.
"Our attention is on the parents as much as the babies, because the babies are going through a lot," he told BBC News NI.
"But the parents are also going through that, with the heightened anxiety if their baby's going to be okay."
Two sets of twins
Colm Darby has first-hand experience of how frightening it can be for families.
He and his brother were born early, at thirty-five weeks.
Then, 11 years later, their mother gave birth to another set of twin brothers, but they were delivered at 28 weeks.
"As a family, we all went over at Christmas and we were able to go into the unit and visit my brothers in the incubators," he recalled.
"I remember the smells and the noises - things like that - and I remember how my parents felt at that time.
"We came home after visiting on Christmas Day and my brothers - there were three of us in the back - we all just started crying because we just wanted our brothers to be okay and our mum and dad to be okay.
"It was quite a traumatic experience, not just for our parents, but for the whole family."
'Fix people'
That early experience had a huge effect on Mr Darby.
He knew he wanted to be a nurse and he wanted to "fix people".
After a number of placements, he ended up at the Royal Jubilee Maternity Unit in Belfast on their neo-natal unit.
"Neo-nates frightened me," he said.
"I was used to parents and patients being able to talk to me and tell me what was wrong, but babies - it's just not easy.
"You know you have to figure it out. You have to look at all the different cues and signs. You're communicating with parents that are under immense stress and anxiety.
"I liked that challenge. That was where my heart was - in neo-nates - because actually that incorporated all my training, all my nursing skills, into one field."
So what's it like being a male staff nurse on a neo-natal ward?
"Mostly I get: 'Thanks, doctor!'
"And then I have to explain I'm not a doctor, that I'm a nurse - which is fine - it's positive discrimination!
"But the male nurse role is something that's quite controversial and has been over the years.
"There's a real gap that needs to be filled that male nurses can offer, especially in the likes of paediatrics, where a male nurse offers a very different role to a female nurse, especially if you're nursing teenagers.
"There are some things teenage boys just won't talk to a female about.
"It hasn't always been easy being a man in nursing. We have a lot of barriers to break down with male nurses and that gender role within nursing, but we're getting there.
"The more that we can prove that there's a role for us, I think the more that men are going to want to do it."