RHI inquiry hears 'weirdness' of decision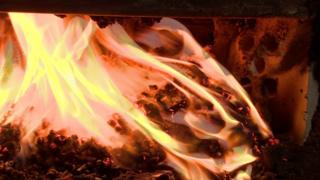 A Department of Enterprise economist wondered why a flawed green energy scheme was chosen over a cheaper grants-based one, an inquiry has heard.
Shane Murphy has been explaining his notes from 2012 to the Renewable Heat Incentive Inquiry.
The inquiry was set up to investigate the circumstances surrounding the green energy initiative, after its costs spiralled.
It heard that two main models were being considered by the department.
The first was the up-front, grants-based challenge fund and the other was the ongoing subsidy scheme that was ultimately selected.
The RHI scheme offered to subsidise the cost of its claimants' fuel - mostly wood pellets - for running their heating systems.
But the fuel actually cost far less than the subsidy they were receiving, effectively meaning that users could earn more money by burning more fuel.
The inquiry is currently concerned with why the subsidy scheme was chosen when it cost hundreds of millions of pounds more than the alternative.
Mr Murphy had noted that the team working on the scheme had not explained why it was choosing the subsidy scheme over the other option, and he added: "DETI needs to spell out why".
He attended a "casework committee" meeting where the RHI subsidy scheme was approved.
Inquiry junior counsel Joseph Aiken asked why there was no note in Mr Murphy's notebook to say that the subsidy scheme was significantly dearer.
"Maybe because I knew it in my head, it was obvious to me, I didn't note it down anywhere, or that it wasn't noted in the minutes," he said.
Mr Aiken suggested that when the scheme went to the then DETI minister, Arlene Foster, for final approval she would not have been able to make an informed decision on the basis of what was recorded at the meeting.
He said: "She wouldn't find from the minutes that an extra £200m of taxpayers was going to be committed to this".
Mr Murphy replied: "I appreciate and accept that, yes."
'Apparent weirdness'
Inquiry panel member Dame Una O'Brien pointed that DETI turned down an option for the RHI scheme that was more than £300m cheaper than the one that was chosen, in part to make a short-term saving of £3.5m on administration costs.
"Did you ever observe the apparent weirdness of it?" she asked.
Mr Murphy said such decisions "don't always make sense" and added: "We see these things so often that we no longer see them as odd as the man on the street."
Inquiry chairman Sir Patrick Coghlin said the common-sense approach would have been "see if you can get a way around this because the saving is so much".