NI state papers: Dublin-Belfast economic corridor proposed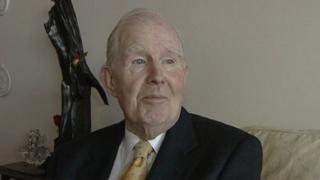 This year's files released by the Public Record Office in Belfast under the 30/20 year rule include discussion of a proposal from former leading civil servant and chairman of the Ulster Bank for "an all-island economy".
Sir George Quigley delivered a speech at a meeting of the Confederation of Irish Industry in Dublin on 28 February 1992.
In a memo in response, dated 6 March 1992, an R Gamble, from the Northern Ireland Office, informed NI Secretary Peter Brooke that Sir George's central idea was that, "given the imminence of the single market and worldwide economic trends, the island of Ireland must move towards functioning as a single economy".
Sir George had identified the conditions necessary for the development of the "island market", including improved physical communication and better information about the supply and demand for goods and services in both parts of the island.
'Special budget'
This mirrored matters discussed at the intergovernmental conference on 6 March 1992.
Gamble informed Mr Brooke that two aspects of Sir George's paper had broken new ground: the first was the proposal that, in its economic programme, the European Community should treat the island as a single entity and create "a special budget aimed at the promotion of a vigorous island economy".
The second was his proposal for the creation of a Belfast-Dublin "economic corridor".
This could be achieved by providing appropriate infrastructure, including science parks and research facilities as well as roads, railways and finance.
However, the official informed the secretary of state that these novel suggestions had political as well as economic implications, and had already drawn negative reaction from unionist politicians.
Consequently, the official said, the secretary of state should react cautiously to Sir George's proposals at this stage.