NI paper review: Trump's wall and a Christmas jumper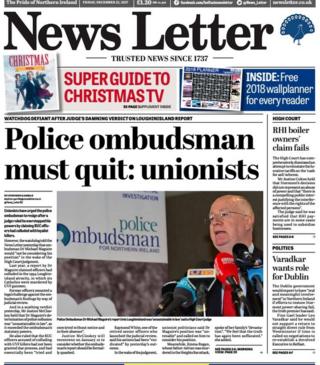 Permission for Donald Trump to build a wall, the terror threat in Northern Ireland and a very cute Christmas jumper feature in Friday's papers.
"MI5: Terror threat in Ulster is greatest in Europe" is the headline inside the Daily Mirror.
Quoting a government report, the paper says MI5 believes NI is the most concentrated area of terrorist activity "probably anywhere in Europe"
It says terrorist activity is disrupted in Northern Ireland every week.
"Dissident republicans conducted 16 terrorist attacks on national security targets in 2015/16," the report adds.
"According to MI5, the New IRA is the dominant threat and has continued to extend its capability and ambition, although (other dissident groups) the Continuity IRA and Oglaigh na hEireann remain active."
Tensions between the Irish government and unionists have featured on the front pages all week and on Friday it's the Belfast Telegraph's turn.
The paper leads with Taoiseach Leo Varadkar warning that the Irish government expects to have real and meaningful involvement in decisions affecting Northern Ireland if talks to restore Stormont fail.
"We won't be supporting direct rule," Mr Varadkar said.
The paper says that Mr Varadkar's stance has infuriated unionists.
The story is also covered in both the News Letter and The Irish News.
Prime Minister Theresa May's responses to readers' questions about Brexit make for the top story in The Irish News.
Questions from eight readers - including a student, the managing director of sportswear manufacturer O'Neills and a retired customs officer - were selected to be put to Mrs May.
Most were not overly impressed with her responses, with one saying that in his opinion he received a "typical vague answer from a politician".
However, the paper says her decision to directly answer readers' questions is a first for Irish papers.
It highlights as significant her insistence that there will be no checks on people travelling across the Irish border after Brexit and that travel between Northern Ireland and the Republic will be seamless.
The fallout from a judge's ruling that the Police Ombudsman overstepped his powers by claiming police colluded with the UVF killers of six men in Loughinisland in 1994 is the front page story in the Belfast Telegraph.
Unionists have urged Ombudsman Dr Michael Maguire to resign, while retired police officer Raymond White tells the paper he feels vindicated by the judge's ruling, but that the collusion tag will be hard to shake.
"This outcome was an indication of what we have been saying for 10 years or more; that there was no due process or fairness in the way this investigation was carried out," Mr White tells the paper.
"We have been saying all along that the investigation was flawed as there was no right of reply for police and no attempts to prosecute any of the officers involved."
The story also features heavily in the other papers.
Also appearing in all four papers - and with virtually the same headline in them all - is Donald Trump being given the go-ahead to build a wall in Ireland.
Thankfully it's nothing to do with Brexit or the border, but instead is a sea defence for his golf resort at Doonbeg in County Clare.
Meanwhile, the Belfast Telegraph says that 10,380 pupils have been suspended from Northern Ireland schools in three years and 73 expelled.
Of those expelled, it says 11 were for physical attacks on other students, 10 for attacking staff members and eight for substance abuse.
Teaching unions have expressed alarm at the figures, with Mark McTaggart of the INTO union saying the organisation was becoming more and more concerned about the rise in assaults.
Finally all the papers feature what is undoubtedly the cutest Christmas "jumper" of the festive period.
They feature pictures of Kayjo the baby tree kangaroo peeking out of his mother's pouch at Belfast Zoo.
Trees, babies and jumpers - what else could you ask for at Christmas.