Safe haven for furry friends at Christmas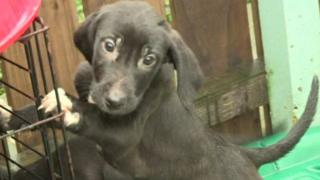 While most of us try to wind down for Christmas - the staff at the Almost Home animal shelter are in the midst of their busiest month of the year.
In the last few days alone, the shelter outside Moira, County Down, has taken in 43 dogs, three cats, two rabbits, and a very lucky turkey who has escaped the Christmas dinner plate and is now called Mistletoe.
Karen Matthews, who runs the shelter, says there are several reasons why December is always her busiest time of the year.
"Some breeders don't manage to sell their pups in the Christmas market and want shot of them so they're not in the way for family preparations," she explained.
Councils want to see dog pounds emptied as they do not have the staff to look after the animals over Christmas.
"Then you've also got the mix of people abandoning older dogs in favour of getting new pups for Christmas," she says.
Irresponsible dog breeding results in a steady stream of puppies ending up at Almost Home, but it's not just younger dogs who come to the shelter.
Abandoned
New resident Lucy is 14.
She was abandoned by her owner and became a stray before being taken in by the animal rescue centre.
Once she settles in, she'll move into Heather House - the retirement home for Almost Home's more distinguished tenants.
Most animals at Almost Home are dogs but cats, a pig, sheep, rabbits and reptiles have all come to call the shelter home in the past few months.
Some of them have been abandoned while others are kept as Karen's personal pets.
The rescue centre is now looking ahead to January - when they'll be busy re-homing animals.
But for anyone thinking about a dog in the new year, Karen has some advice.
Car parks
"Try your rescue centres first but be responsible," she said.
"Don't meet in car parks, make sure you've seen [the animal's] mum and dad and ask your questions.
"Dogs aren't just for Christmas, they're for life. We've become a throwaway society - it's no longer man's best friend.
"People think the dog doesn't match the decor, it chewed my furniture, it ripped my carpet so we'll just get rid of it and get a new one.
"They need to realise we see the other end and pick up the pieces when those dogs come here and they are broken."
Karen would like to see urgent reform of Northern Ireland's dog breeding laws.
'Breeding continues'
"We're sending dogs elsewhere in the UK, to Sweden, to Italy, trying to find good homes for our dogs and yet the breeding continues," she said.
"Other countries ban breeding while there are animals in shelters.
"We're fire fighting. We will never fix the problem while breeding continues like this."
So what's Christmas like when you run an animal shelter?
"Where normal people get to have a day off, we don't. There's still plenty of poo to lift, dogs need fed and watered and cared for. It doesn't matter what day of the year it is.
"But you see their faces, you know they are safe, and it's all worth it."