Church of Ireland opens doors to Catholic neighbours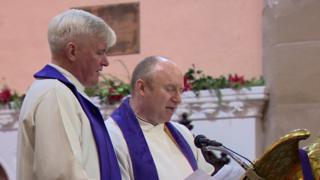 It is not unusual for the congregations of St Maeldoid's Church of Ireland, Castleblayney, and their next door neighbours, St Mary's Catholic Church, to get together for a carol service at Christmas.
But this year's community carol singing has a special significance to both churches.
It comes slap bang in the middle of a year-long agreement which has seen the Catholics of St Mary's move en masse into St Maeldoid's.
St Mary's is undergoing extensive repairs, including a new roof, and the small Protestant congregation next door, with only 35 parishioners, was delighted to be able to help out.
Rev Neal Phair, rector of St Maeldoid's, said everyone had jumped at the chance to reach out to their Catholic neighbours.
"There was no resistance at all here in St Maeldoids," he said.
"Everyone thought it was a fabulous idea. When we did up our church in the early '90s, St Mary's congregation and the people of Castleblayney were very good to us so we were delighted to return the favour."
His counterpart in St Mary's is Fr Pat McHugh.
He said the move from St Mary's to St Maeldoid's has been seamless. So much so, that he can see a time when a permanent version of this sort of arrangement becomes the norm.
"Not in this generation perhaps, but I predict that in future generations people will ask, indeed some people are already asking, do we really need two buildings?" he said.
"I think that, over the past six months, we have probably proved that we don't.
"What's temporary here now could very well become permanent perhaps some time in the future."
Castleblayney has a long history of community cohesion.
The two churches are only about 50 metres apart, both having been presented with their sites by the landowner who gave the town its name - Lord Blayney.
So this type of co-operation does not cause too much of a stir locally but it has attracted a lot of attention from elsewhere.
Fr McHugh said: "Myself and Neal have had communication from as far away as Dungarvan in County Waterford, complimenting us and wishing us well."
Rev Phair said: "People have been surprised and, as Fr Pat was saying, a lot of people have been complimenting us, saying that it's a wonderful initiative.
"We're glad that it's happening and people feel very proud of their town of Castleblayney that this could happen here and it shows just how well the people of Castleblayney work together."
Rev Phair says small Protestant communities south of the border are, like their counterparts in the north, beginning to, once again, feel confident enough to stand up and celebrate their history, culture and wider contribution to society.
That is a view echoed by the Republic of Ireland's Business Minister Heather Humphreys, who was in the congregation at St Maeldoid's.
After the service, she said: "I think there is a renewed confidence and there's a pride in our identity and in our culture and I think that's very important and in that confidence you can come forward to go to church and be confident of your traditions.
"People are happy to open their doors and not feel threatened by other people using their church.
"More and more I think we'll see people coming together to celebrate these Christian events," she added.