Former NI Ombudsman Maurice Hayes dies, aged 90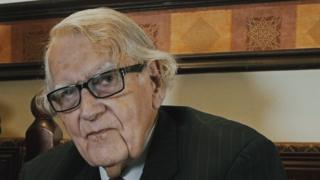 The man who was a key figure at Lord Patten's side during the transformation of policing in Northern Ireland, Dr Maurice Hayes has died aged 90.
He was the first Catholic to be appointed Northern Ireland Ombudsman and was Permanent Secretary of the Department of Health and Social Services.
He had been in hospital.
Born in County Down in 1927, Maurice Hayes went on to become a high-ranking Stormont civil servant.
He held roles in many public bodies and was a major contributor to the Patten Report which led to the creation of the PSNI.
Educated at then Queens University Belfast, he studied English, before becoming a teacher.
He was town Clerk of Downpatrick from 1955 - 1973 and chairman of the Community Relations Commission for three years in 1969.
The 1970s began his career in the civil service. In 1973 he became Assistant Secretary in office of the power-sharing executive before its collapse.
He was nominated to the Irish senate in 1997 as one of the then Taoiseach Bertie Ahern's eleven nominees.
Dr Hayes was a leading GAA figure and a life long Irish speaker.
In later life he sat on various boards, as well as conducting a review into a scandal in the radiology department at Tallaght Hospital on the outskirts of Dublin for the HSE.
Sir Kenneth Bloomfield is the former head of the Northern Ireland Civil Service.
"He was a man of great fairness and broadness of mind," he said.
"I believe if he had stood for the presidency of Ireland... he might very well have been elected to that.
"I personally will miss him very much... and this society will miss him too," he added.
Irish President Michael D. Higgins also paid tribute:
"He brought a strong commitment to a pluralist and inclusive vision of society to his work in Seanad Éireann (the Irish senate) and as Ombudsman for Northern Ireland.
"On behalf of the people of Ireland I send my sympathies and condolences to his family and friends."
'An institution'
Historian Dr Éamon Phoenix said: "He was almost an institution in the wider Catholic community in Northern Ireland.
"He brought to bear almost a century of life and experience in this place.
"His contribution is writ large in his public career, and indeed in the state papers which have been revealing his important insights and public contribution over the years."
Former MP for South Down Margaret Ritchie said that as well as being a "distinguished civil servant" he was "the man that masterminded Down's GAA win in 1960 and 1961, the first time that Sam Maguire came north".
"He was the ultimate Gael, he was also a person of immense intellect" she added.
In April of this year Journalist Eamonn Mallie interviewed Dr Hayes for a four-part series of the Irish language programme, Beart is Briathar.
'Philosopher'
The programme was a series of interviews with high-profile Irish-speakers.
Mr Mallie said Dr Hayes was "a philosopher" but a man who "carried his erudition and learnedness so easily on his shoulders".
"He had a capacity to reduce the most difficult concept or idea into very simple language, language which could be understood by everybody.
'Did not draw lines'
"He was not a man who created tension; he was not a limelight seeker in any sense.
"He was a man who worked very subtly and very diligently behind the scenes to make things happen.
"He was a man who reached out; he was ahead of his time."
"He walked with Protestant and Catholics, he did not draw lines between them, he was a very rare commodity."
Former Northern Ireland Office Minister Sir Richard Needham said he would be greatly missed: "He was a really gigantic figure in public life in Northern Ireland.
"We always say people will be missed but he will be missed with such wisdom and because he was listened to by everybody from every side of the community really."
The Sinn Féin president Gerry Adams said: "Over many years Maurice Hayes made a significant contribution to the political, cultural and sporting life of the island of Ireland and especially County Down.
"I knew Maurice over many years. We didn't always agree but he was passionate about the peace process and about building a better future for the people of Ireland."