Belfast Black Santa charity appeal in 41st year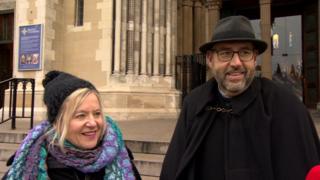 The Black Santa charity appeal may be in its 41st year, but it seems the generosity of passers by in Belfast is not waning.
The traditional Christmas vigil was started in 1976 under Dean Sammy Crooks and millions have been raised since.
The Cathedral is currently without a Dean, but other Church of Ireland clergy have been helping out.
It takes place on the steps of Saint Anne's Cathedral in Belfast and the annual sit-out ends on Saturday.
Reverend Denise Acheson told the BBC that this year's appeal was going well.
She said it was estimated close to £100,000 has been raised so far, a figure which does not include online donations.
"We haven't got the final total yet but I think it's an incredible amount of money raised," she said.
"The weather has been fantastic, we're warm and well wrapped up. But really the people of Belfast have been so generous.
'Family tradition'
"There's been a steady stream going past all day long.
"Just a few moments ago we had a family down here who have been coming every year since it started.
"They were there together. One of the family who had just arrived this morning had been studying overseas and came down with her family.
"It's become such a family tradition and event for people.
"It's really heartening and encouraging that people still are so generous and one of the reasons is that so much of the money goes to the local charities.
"We have been asked by passers-by 'Is all of this money going to the charities? Is anything in administration?
"We can say every penny goes to charity. We are all volunteers".
The Ven George Davison, Archdeacon of Belfast & Rector of Carrickfergus, said the money would go to a range of charities supporting different kinds of work.
"There's a special service held in Feburary this year and representatives come and receive the cheques from our Dean.
"By then we hope well have our new Dean in place.
"Some goes overseas to those in poverty and need but the bulk of it goes to local charities in Northern Ireland.
Dean Jack Shearer, who died in 2001, was initially dubbed the Black Santa by the media in the 1980s.
This was because of his distinctive black warm woollen clothing and the name caught on with the public.
This is the 41st sit-out .