An 'outstanding individual' - the late Dr Maurice Hayes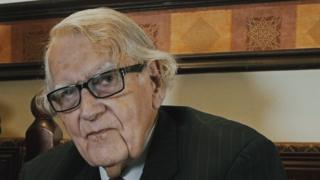 Few public figures in recent history have made such a rich and wide-ranging contribution to public life, sport and culture on the island of Ireland than Dr Maurice Hayes.
Dr Hayes died on Saturday, aged 90.
He was born in Killough, County Down in 1927 into an affluent Catholic, nationalist family.
His father, a Southerner who had served in the Great War was Town Clerk of Downpatrick, while his mother ran the town's local hotel.
He spent three years studying for the priesthood before leaving Queen's University with a degree in English.
He found the post-war Queen's too 'dull and earnest' for his intellectual and social tastes.
After a spell teaching in his old school he followed his late father into local government where he first showed the administrative and interpersonal skills which would mark his later career as a senior civil servant.
Historic divisions
Outside the Town Hall, Hayes became deeply immersed in the GAA, playing inter-county hurling, speaking Irish and playing a key role in Down's double All-Ireland football triumph in the early 1960s.
Married to Joan in 1967, and living in picturesque Strangford, Hayes was aware both of the historic divisions in Northern Ireland society and of the good community relations which permeated his native East Down.
Among the politicians he got to know in his day job was the rising Unionist Minister, Brian Faulkner.
To Hayes' surprise, following the outbreak of the Troubles in 1969, he was appointed chairman of the new Community Relations Commission.
As the violence escalated over the next three years, he and his colleagues would be forced to deal with the greatest population movement in Western Europe since the Second World War as 60,000 people were forced to flee their homes due to violence and intimidation.
The introduction of internment in August 1971 proved to be the disaster which he had warned Brian Faulkner it would be.
Nationalist alienation intensified and in 1972 Hayes to resigned in protest over the events of Bloody Sunday.
As he informed the ever-courteous Faulkner of his decision, both men knew that Direct Rule was inevitable.
By 1974, Hayes's insights into nationalist politics were in demand and he became Assistant Secretary to the new power-sharing Executive, though he felt its formation had been rushed before a groundswell of support had been established.
He lamented its failure and the thousands of Troubles related deaths which were to follow.
Dr Hayes went on to serve with distinction as Permanent Secretary at Health and Social Services and as the region's first Catholic Ombudsman before joining the Patten Commission which created the PSNI after the Good Friday Agreement.
Aware of the historical 'disconnect' between the nationalist community and policing he viewed his part in creating a new beginning as perhaps his greatest contribution to peace and stability in Northern Ireland.
As the first member of his community to reach the upper echelons of the Northern Ireland Civil Service, he was in a position to assess local political leaders.
He admired Brain Faulkner and John Hume. He talked about the late Rev Ian Paisley in his memoirs.
Describing how he saw Mr Paisley, he said: "There were about six Paisleys, two were reasonable, two quite awful and two could go either way".
In that sense, the DUP leader's later decision to share power with Sinn Féin did not surprise him.
'Outstanding individual'
In his retirement years Dr Hayes entered the political arena in the Republic, serving two terms in the Senate.
He also served on the board of Independent newspapers, wrote two autobiographies and continued to promote Gaelic games and reconciliation.
Maurice Hayes was an outstanding individual who sought to solve the problems of his fellow countrymen regardless of class or background.
He will be sadly missed.