South Belfast: Pork thrown into Belfast Islamic centre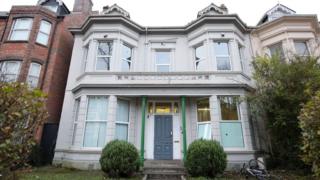 Pork has been thrown into the hallway of Belfast Islamic Centre, in what police are describing as a "hate incident".
It was reported to the PSNI at about 20:00 on Saturday.
In August a pig's head was left on the doorstep of the Islamic centre in Newtownards.
Doctor Raied Al Wazzan, the treasurer of the centre, told BBC News NI that pieces of meat had been thrown in the letterbox.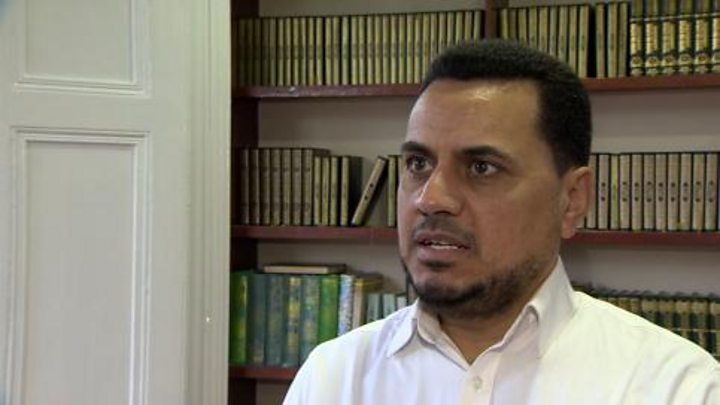 "Someone ignorant people think by doing this act we are not going to pray or use the premises," he said.
"It's nonsense - we're not allowed to eat pork, but we just have to remove it and clean," he said.
"We believe these people do not represent the vast majority of Northern Ireland. We have received many messages of support.
"They will not succeed. We have a very good relationship with all communities in Northern Ireland and we work hard with our outreach," he added.
'Clear message of hatred'
Anwar Mady is a spokesperson for the centre, he said it has been attacked before, but this is the first time someone has opened the front door.
"It's a busy time. People are coming to perform the last prayer of the day.
"For me, it's a clear message of hatred. It's not about meat, it's about the hate," he said.
Mr Ady said it was also difficult to understand the attack which came just hours before Christmas Eve.
"They're supposed to be celebrating mercy and forgiveness. I think this man is only representing himself, and a handful of people who may support him.
"We know that this person doesn't represent the wider society of Northern Ireland and we are very thankful for the people who sent us messages to tell us the message of support," he added.
CCTV
The incident was captured on the centre's CCTV and the footage has been passed on to police.
DUP MP for South Belfast Emma Little-Pengelly condemned the attack on social media.
"Attacking our small Muslim Community in South Belfast is completely wrong, achieves nothing and is entirely misdirected," she posted to Facebook.