West Belfast shooting was 'brutal and despicable' - PSNI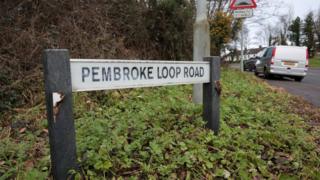 Police investigating a paramilitary-style shooting of a man in west Belfast have described the attack as "brutal and despicable".
The 18-year-old victim was shot twice in the legs.
It happened in Pembroke Loop Road at about 20:00 GMT on Saturday. He is in a stable condition in hospital.
Det Srgt Wilson said the attack had "left the young victim with potentially life changing injuries".
"It is yet another example of how criminal groups seek to control communities through fear and violence," Det Srgt Wilson added.
The PSNI is appealing for witness.
Councillor for the area Brian Heading condemned the attacked: "The community do not want these actions taken on their behalf.
"The people who carry out these attacks do so on their own.
"They take the law into their own hands. We do not want to go back to those days," he added.