Murder inquiry after woman dies in Lisburn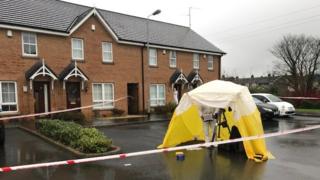 A murder investigation has been opened after the death of a woman in Lisburn in County Antrim.
A 19-year-old man has been arrested.
Police officers and ambulance crews were called to a house at Mornington Gardens shortly after 06:00 GMT on Christmas Day.
A woman died, despite efforts by paramedics, while another woman and a man were taken to hospital with what are believed to be stab wounds.
The Belfast Health and Social Care Trust said the injured man has since been discharged.
'In complete shock'
Residents who live in the same cul-de-sac say the area is normally quiet.
"I saw the flashing lights, the ambulances, police cars and the crime scene investigators arrive," one man, who did not want to be named, told BBC News NI.
"I'm completely in shock - it makes you feel lucky for what you have.
"There's never anything in this estate - this whole part of the town is very quiet.
"It is just unreal."
Another man told the BBC he saw paramedics perform CPR on the victim as she was taken out of the house on a stretcher.
He said the people who were injured were taken from the house separately with bandages around their heads.
'Extremely difficult time'
Assembly member Pat Catney said he "can't begin to imagine the pain" that the victim's family would be feeling.
"This should be a day families spend together, happy and grateful to have each other," said the SDLP MLA.
"Instead a family is waking up on Christmas morning to news of the death of a loved one.
"My thoughts and prayers are with the woman's family and friends at this extremely difficult time."
He added: "I would urge anyone with information, however small, about what happened here to bring it forward as soon as possible."