Long waits to see out-of-hours doctor in Southern Trust area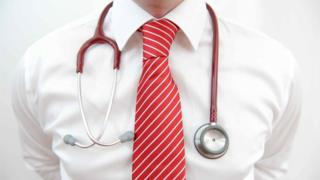 Patients needing to see a doctor out-of-hours in the Southern Health Trust area have had to wait up to 34 hours over the Christmas period.
Patients were being advised that the most ill were being seen first.
The trust said on Tuesday evening that the number of calls received have been significantly higher than last year.
"Clinicians have responded and have been helpful. Waiting times are down to six hours," a spokesperson said.
Criticism
Dr Francis O'Hagan, of the British Medical Association GP committee in Northern Ireland, is critical of how the trust has handled the situation.
"The trust has a responsibility to cover the sessions, to make sure there are enough GPs," she said.
"We've known right from the beginning of the year that this was a four-day bank holiday and they haven't been able to get the cover that is necessary.
"Because of that, now we have a horrendous backlog and we will be picking up the pieces tomorrow and the next day and the day after."
All GPs who work in the Southern Trust out-of-hours service got a text message from the trust at about 10:20 GMT on Tuesday morning asking them to volunteer to help.
It read: "All GPs and Home Triage Clinicians: The [out-of-hours] service is under unprecedented pressure with a current 34 hour waiting time.
"We would ask that any clinician that has capacity to work any number of hours today or tonight at any time to contact the co-ordinator... Thank you."
This text resulted in more doctors coming forward and the waiting times coming down, a spokesperson for the trust said.