Hundreds attend funeral of Dr Maurice Hayes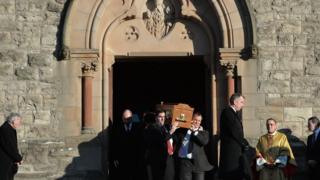 Hundreds of people have attended the funeral in Downpatrick of the former Northern Ireland Ombudsman Dr Maurice Hayes.
Dr Hayes died on Saturday aged 90.
Irish President Michael D Higgins, former Methodist Church president Rev Harold Good, and ex-Presbyterian moderator Rev John Dunlop were among those in attendance at St Patrick's Catholic Church.
Canon Sean Rogan said Dr Hayes loathed "hypocrisy and bigotry".
He said his friend and former teacher was a diamond cut from the quarry of tolerance and that this was displayed in all aspects of his life.
"Maurice Hayes was a giant who strode the stage of life in so many and varied roles - but always the same Maurice of integrity, honesty and humility," he said.
Dr Hayes served two terms in the Irish Senate and was a member of the Patten Commission which created the PSNI.
He was the first Catholic to be appointed Northern Ireland Ombudsman and was Permanent Secretary of the Department of Health and Social Services.
Dr Hayes also held roles in many public organisations.
Nationalist politicians from both sides of the Irish border attended the funeral, as well as North Down independent unionist MP Lady Hermon.
Bishop of Down and Connor, Noel Treanor, said Dr Hayes had "espoused the highest ideals and virtues of citizenship".
"He will be remembered for his capacity to respectfully bring together diverse political opinion and ideas," he said.
Dr Hayes will be buried in the grounds of the Church of Ireland's Down Cathedral.