New Year Honours 2018: Knighthood for bus company founder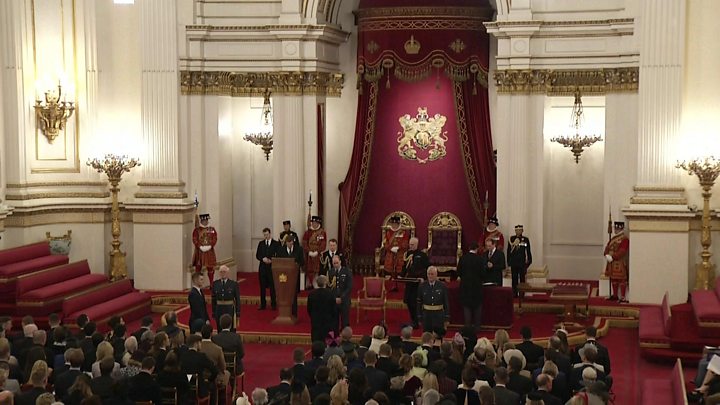 The founder of a multi-million pound bus company is among more than 100 people in Northern Ireland who feature on the Queen's New Year Honours list.
William Wright of bus-maker Wrightbus has been awarded a knighthood.
His County Antrim company is a major player on the international stage.
He also has strong links to Northern Ireland's Democratic Unionist Party (DUP).
In 2015, he signed general election nomination papers for the successful DUP candidate in North Antrim, Ian Paisley.
The same year, the DUP used a Wrightbus-built double-decker at its manifesto launch as a backdrop to speeches and photo opportunities.
He has also publically backed Brexit. He was recognised for his services to the economy and the bus industry.
Senior civil servant Nick Perry was made a Companion of the Order of Bath. He has been recognised for his services to the criminal justice system in Northern Ireland.
Mr Perry came to media attention in 2014 when it became clear that he was aware of the On the Runs scheme but could not disclose it because of strict civil service rules.
The On the Runs scheme was set up by the previous Labour government in the years following the Good Friday Agreement and was administered by the Northern Ireland Office.
The aim was to deal with cases of republicans who were suspected of IRA terrorism, but who were never charged or convicted of related offences.
Three people in Northern Ireland received CBEs.
They were Prof Norman Black for services to higher education, Prof Richard English, Queen's University Belfast, for services to the understanding of modern-day terrorism and Andrew Hamilton for services to government and to charity.
Among those celebrating an MBE is Michael Moss who was general manager of Portstewart Golf Club for over 30 years. He retired last year after taking on the role of Tournament Director of the Irish Open.
Liam Beckett a sports pundit and sometime Santa sit-out star in Ballymoney also receives an MBE for his services to the voluntary sector and sport.
Haji Mohammad Yaqub Joya was recognised for services to the Army and the Muslim community in Northern Ireland whilst Ivy Agnes Lee received an MBE for her contribution to girl guiding.
Journalists are also honoured on the list.
BBC Radio Ulster presenter Linda McAuley received an MBE for her services to consumers.
It is the second award that the journalist who fronts Radio Ulster's On Your Behalf has received this year.
She was inducted into the IMRO Radio Hall of Fame in September. She has hosted the programme for the past 22 years.
"I am so grateful to my producers and all the people I've worked with over the years, and to the listeners who've been a huge part of my radio career which has spanned over 40 years," she said.
"For the last 22 years I've presented On Your Behalf on BBC Radio Ulster and BBC Radio Foyle and meeting, helping and educating consumers has been an honour in itself. To be mentioned in the New Year Honours List is the ultimate accolade."
Presenter Eamonn Holmes who is originally from Belfast said that receiving his OBE was like "getting a gold star for your homework".
The 58-year-old "king of breakfast television" has been recognised for his services to broadcasting.
It is a "wonderful accolade", he said.
A Samaritans volunteer in Belfast has been awarded a British Empire Medal in the New Year honours list.
Dawn Parkinson, 53, said: "It was just as well that I was sitting down when I got the phone call!
"I feel really honoured and properly proud, not just for me but for my family, work colleagues and all the volunteers at the Belfast branch of Samaritans."
She is also involved in providing emotional support to prisoners in Belfast's Hydebank Wood prison, which houses both women and young offenders, including prisoners on remand.
"We let prisoners know about Samaritans and how we are non-judgmental. When you're cut off from your family and locked up, the myriad of problems we can all face are ten times worse. I feel a real empathy with that," she said.
Lucia Mee from Ballycastle in Country Antrim is the youngest person on the New Year honours list.
The 18-year-old has been awarded a BEM for her work in raising awareness of organ donation.
And John Madden, principal of, Roddensvale Special School has been awarded a BEM for services to the community in Larne, County Antrim.
Here is the full list of Northern Ireland recipients:
Knighthood
William Thompson Wright
Order of the Bath
Nicholas Proctor Perry
Commanders of the Order of the British Empire (CBE)
Prof Norman David Black
Prof Richard Ludlow English
Andrew Melvin Hamilton
Order of the British Empire (OBE)
David Alexander Canning
Robert John (Jack) Dobson
Ellvena Graham
Eamonn Holmes
Olive Mary Maybin
Grace Foster Nesbitt
William John Priestley
Rhona Mary Quinn
Members of the Order of the British Empire (MBE)
Elizabeth Rachel Atkinson
Philip Andrew Batt
William Alexander Beckett
Robert George Black
Jayne Brady
Cynthia Louise Hart Cherry
Mary Barbara Collen
George Edward Colligan
Christine Rosemary Collins
Michael John Doherty
Michael William Graham
Ruth Graham
Florence Harper
Jonathan Heggarty
Kenneth Malcolm Hewitt
John Martin Hughes
Elizabeth Anne Johnston
Haji Mohammad Yaqub Joya
Ivy Agnes Lee
Margaret Patricia Martin
Linda Jane McAuley
Thomas Adrian McAuley
Thomas Celestine McBride
Hazel Roberta McCready
Det Con Garry Millar
Henry Joseph Moore
Sandra Moore
Michael Cecil Moss
Alison Moth
Kenneth John Nelson
David George Openshaw
Prof Gerard Patrick Parr
Stephen Philip Prenter
Margaret Ann Shields
Jeffrey Douglas Reginald Smith
Anne Amelia Manson Wallace
Verena Lesley Wallace
William John Allen Watson
Jacqueline Frances Williamson
Medallist of the Order of the British Empire (BEM)
Thomas Allen
Peter Baillie
Jack Alexander Erwin Beattie
James Bell
Margaret Cahoon
Gayle Luett Carson
Samuel Frederick Erskine (Ricky) Caruth
Stephen Chapman
Jonathan Victor Cooke
Dawn Ruth Davis
Elizabeth Gabrielle Deans
David Denvir
Theresa Mary Douglas
Hazel Valerie Drummond
Thomas Wallace Elder
James Andrew Emery
Robert Fisher
William James Keith Fleming
Mary Bernadette Glass
Philip Colin Kyle
John Madden
Norman Mawhinney
Margaret Patricia McDonald
Barbara McKinley
Selma Anne McMullan
Jeanette McMurray
Iris Phoebe McSwigin
Lucia Quinney Mee
William David Alexander Mitchell
Rachel Morrison
Peter Francis Mulligan
Elizabeth Mary (Elma) Nelson
Ernest O'Hara
Rebekah Mary Olphert
Hugh Raymond Phillips
Avril Pollock
Samuel Pollock
Patrick Joseph Prunty
Robert Ramsey
Mary Gertrude Robinson
Robert John Savage
Thomas Richard Scott
Daryl Jon Simpson
Amy Margaret Smyton
Susan Spence
Eileen Thelma Strange
Robert James Hamilton Thornberry
Lillian Thornton
John Samuel Wilson
Queen's Police Medal (QPM)
Supt Alywin John Barton
Det Insp Jeremy Thomas McFarland