Springhill, west Belfast: Man injured in fight outside shops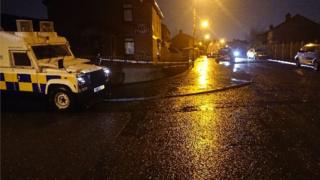 A man has been injured after an incident in west Belfast on Friday evening.
There are reports that hammers and chains were used in a fight in the Ballymurphy estate.
It happened outside shops at the corner of Springhill Drive and Springhill Gardens.
It is understood a man was unconscious when paramedics arrived. He was taken to the Royal Victoria Hospital. His condition is not yet known.
Residents said one man was stripped to the waist and his face was covered in blood.
One eyewitness said another man was trying to get away from the man covered in blood and locked the door of a shop in a bid to escape.
A woman in the shop described it as a frightening experience.
Police remained at the scene on Friday night.