Children witness man's 'brutal' shooting in Belfast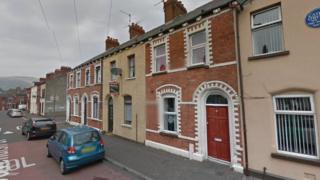 Four young children have been left "terrified" after they witnessed a "horrific" shooting of a man in a house in west Belfast, police have said.
The paramilitary-style gun attack happened on Cavendish Street at about 19:45 GMT on Saturday.
Three men entered a house and struck the man on the head before using a handgun to shoot him in both knees and his right ankle.
The victim, who is 28, is in hospital receiving treatment to his injuries.
A woman in the house who saw what happened was also assaulted.
'Attacks not acceptable'
Det Sgt Kelly, of the Police Service of Northern Ireland, said it was a "brutal attack in a busy residential area" and showed how "criminal groups seek to control communities through fear and violence".
"The residents, including young children, have been left terrified by these events," he added.
Sinn Féin councillor Ciaran Beattie said the attack happened in a residential area and people had been left shocked.
"I condemn these type of shootings outright - there's no place for these actions in our society at all," he said.
"The people responsible need to end these actions immediately and cease what they're doing.
"It's not wanted by the community - these attacks aren't acceptable at all."