NI Paper Review: Health service criticised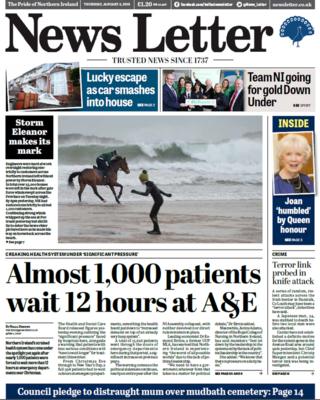 Northern Ireland's health system has come under fire again in the papers with the News Letter leading with the headline '1,000 patients wait 12 hours at A&E'.
Inside, it reports that the Royal College of Nursing said it gave "an advance warning of the exceptional crisis on A&E departments over the holiday period two weeks ago".
Janice Adams, director of the Royal College of Nursing in Northern Ireland, told the paper: "We have had contact with every A&E department across Northern Ireland and we know that there is pressure on a daily basis."
"Nurses and their managers and directors are trying their very best", said Ms Adams.
"Our members feel let down by the leadership in the system and by the lack of political leadership in the country."
Ms Adams told the paper: "We knew this was going to happen".
Sean McGovern, vice president of the Royal College of Emergency Medicine, told the News Letter that a shortfall in emergency department doctors was being filled with locum staff.
The Irish News is also critical of what it calls the "A&E crisis" in a double-page spread.
Sinn Féin health spokesman Pat Sheehan commended staff, but said the measures taken to plug gaps were not sustainable.
"A workforce strategy is needed to begin to address existing staff shortages," he said.
Also in the Irish News a mother and daughter recount their panic as a stolen car smashed into their home.
The pair were asleep in the house on Cavendish Street at about 05:00 GMT on Wednesday when they were woken by a "big bang", the paper reports.
"Neighbours 'squealed' for Roisin Murray and her 16-year-old daughter Molly to escape amid fears the vehicle would ignite," it said.
A photograph of the damage from the crash is on the Irish News front page.
'Drink driving'
It emerged on Wednesday that the luxury vehicle - worth about £80,000 new - was stolen along with a silver Toyota C-HR during a burglary in Holywood, County Down.
Inside the Irish News is an apology from an Alliance Party councillor who has recently been convicted of drink driving.
Patrick Brown, a representative of Newry, Mourne and Down Council, pleaded guilty in court after being caught riding his motorbike while under the influence of alcohol last year.
But yesterday, the 25-year-old said he was sorry, and reported himself to the local government standards watchdog.
He warned others "never to take such a risk" and said "I am glad no one was hurt as a result of my stupidity".
'Never walk again'
The Belfast Telegraph features the story of a student whose "robotic suit" is helping her to walk again.
Jennifer Smyth, from Londonderry, was left paralysed after an accident four years ago, but has defied those who said she would never walk again.
Miss Smyth was a talented gymnast who was injured during a training session with her local club.
Now with the help of a ReWalk 6.0. bionic suit, which was handed over to her by Landmarc Solutions, Jennifer can now stand and walk.
Also in the paper is an unlikely good news story from Storm Eleanor.
While most of the papers feature scenes of devastation and ruin, the Belfast Telegraph has found signs of new life in County Antrim.
One Ballymena farmer has told the paper how his ewe gave birth to five lambs during the storm.
He said the chances of quintuplets were extremely rare and the ewe had given birth "while Storm Eleanor was at its worst".
He said it was not normally a good thing to have so many lambs from one mother because they can be small and "may not last" but in this case they are "all doing well".