NI Paper Review: Murder funeral and the 'brain drain'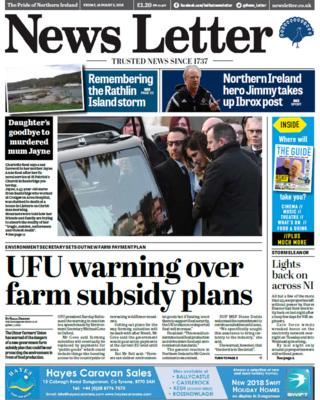 The funeral of a woman stabbed to death on Christmas Day is the story which links the papers on Friday morning.
Photographs of Jayne Toel Reat's funeral show her "heartbroken" daughter reaching to the coffin for a final goodbye.
The 43-year-old died in her daughter's arms following the attack on Christmas Day.
Ms Toal Reat had worked in Craigavon Area Hospital. Her daughter Charlotte, 21, was also injured in the attack.
A 19-year-old man, Nathan Ward, has been charged with Ms Reat's murder and the attempted murder of both Charlotte Reat and his father Joseph Tweedie, the partner of the late Ms Toal Reat.
The Belfast Telegraph reports that mourners were asked to wear powder blue or baby pink as they were Ms Reat's favourite colours.
'Blue uniforms'
The News Letter reports on the mass by Canon Liam Stevenson.
He spoke of how so many people had been left "shocked, upset and deeply troubled" by the news of Ms Toal Reat's death.
The Irish News also reports on the funeral under the headline "a last goodbye from a loving daughter".
It reports that more than 300 people attended the funeral and that nursing colleagues attended in their blue uniforms.
Also in the Irish News is a call for an Alliance councillor, who was convicted of drink driving, to stand down.
'Drink driving'
The paper reported on Thursday how Patrick Brown had apologised for the incident and referred himself to the local government standards watchdog.
Brown, a representative of Newry, Mourne and Down Council, pleaded guilty in court after being caught riding his motorbike while under the influence of alcohol last year.
But the DUP's Jim Wells has called for him to stand down from his role.
Mr Wells said Brown's position was "untenable" and he should resign his seat.
He pointed out how Trevor Beatty, a former DUP councillor, stepped down last year after admitting drink driving.
"Unfortunately in south Down we have had far too many young men die as a result of drink-driving incidents.
'Brain drain'
"He must set a very clear example to others in the community that drink driving is beyond the pale for anyone, particularly someone who is a public representative."
The Alliance Party told the paper it treats drink driving very seriously and that Brown had received "further sanctions" within the party.
In the Belfast Telegraph, SDLP leader Colum Eastwood reflects on the "brain drain" from Northern Ireland.
Mr Eastwood said he watches his siblings fly back every new year with "deep regret" that they could not find the same opportunities at home.
"I know it is a story shared and experienced by thousands of families across Northern Ireland.
"Those annual journeys are a constant and raw reminder that Northern Ireland is still in the business of exporting our young people."
Mr Eastwood's solution is seemingly simple - "We simply cannot carry on being the only political environment in the western world where the economy is not the primary issue."