Stormont crisis blocks £19m charity cash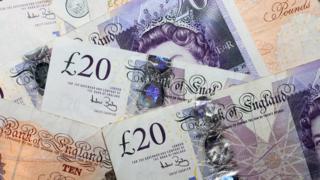 Nearly £20m made available for charitable causes in Northern Ireland cannot be distributed due to a lack of a funding mechanism, BBC News NI has learned.
The dormant bank account initiative distributes money from accounts unused for 15 years.
Since 2008, £360m has been recovered and spent, none of it in NI.
The Department for Digital, Culture, Media and Sport said £10m was already available.
A further £9.2m was earmarked for the next two years, it added.
'No work'
In response to a Freedom of Information request from fundraising adviser Neil Irwin, Stormont's Department of Finance said: "The intention to develop a scheme for the use of dormant account funds in Northern Ireland has been announced on four separate occasions by the following ministers: Sammy Wilson, Simon Hamilton, Mervyn Storey and Máirtín Ó Muilleoir."
In June 2017, the department said no work was being done on preparing the fund that would distribute the cash "due to the absence of an executive".
Mr Irwin said it was "disgraceful" that the money was not being available to charities working in the education, health, disability and arts sectors.
"It is money the sector needs, organisations are having to close because of lack of funds," he said.
In 2016, the then DUP finance minister, Mervyn Storey, announced that a Northern Ireland Community Finance Fund would distribute funds to organisations such as community groups and churches.
Mr Storey now blames the ongoing delay in releasing the funds on Sinn Féin.
"I think civil servants could release the money, and we shouldn't allow any more of this holding up of government by Sinn Féin," he said.
Mr Storey's successor as finance minister was Sinn Féin's Máirtín Ó Muilleoir.
Mr Ó Muilleoir said his priority was to ensure some of the funding went to the homeless, asylum seekers and to arts regeneration programmes.
"I would say to the head of the civil service, 'the dormant money is there, let's get it dispersed along the direction of travel that I laid out'," he said.
In Great Britain, dormant accounts money is distributed by the Big Lottery Fund.
Last week, a further tranche of £330m in funding was announced by the government for distribution across the UK.
Northern Ireland's share of this is £9.2m.
The government is considering whether to extend the scheme to other classes of unclaimed financial assets, including shares, pensions, insurance policies and other investments.
In a report last year, a commission of experts suggested up to £2bn could potentially reside in such products, although it recommended that further legislation would be required to access it.
A spokesperson for the Department of Finance said: "The policy for the New Opportunities Fund which will enable the utilisation of the Dormant Accounts funds is currently being developed.
"The release and use of these funds is a decision for the Northern Ireland Executive."