Peter Sutherland, former Irish attorney general, dies aged 71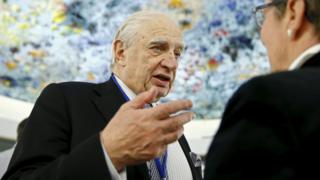 The Irish president has led tributes to former Irish attorney general and European commissioner Peter Sutherland, who has died aged 71.
Mr Sutherland died in Dublin on Sunday morning following an illness. President Michael D Higgins said Mr Sutherland had left "an important legacy".
As a European commissioner in the 1980s, he helped to lay the groundwork for the European single market.
He was also a former director-general of the World Trade Organisation.
Taoiseach (Irish prime minister) Leo Varadkar said he was a "statesman in every sense of the word".
"Peter Sutherland had a passion for public affairs and made a significant contribution to Ireland, Europe and the world over a number of decades," he said.
Irish foreign minister Simon Coveney said Mr Sutherland was "a compassionate, driven, global thinker".
Born in Dublin, Mr Sutherland studied law at UCD and Kings Inns and was a barrister by profession.
He later became an influential businessman and, among his other roles, served as chairman of investment bank Goldman Sachs for 20 years up until 2015.