Denis Donaldson murder: Gary Donnelly released without charge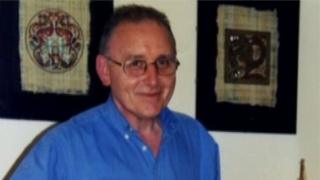 A well-known dissident republican and councillor has been released without charge after being questioned over the murder of ex-Sinn Féin member turned British agent Denis Donaldson.
Gary Donnelly, an independent member of Derry City and Strabane Council, was arrested in County Donegal on Sunday.
A file is to be sent to the Irish director of public prosecutions.
Another man who was arrested over the 2006 shooting has also been released without charge.
It is the second time that Mr Donnelly has been released without charge after being arrested and questioned about the murder.
His previous arrest was in September 2011.
Denis Donaldson was shot dead in April 2006 in a remote cottage in the hills of Donegal's north-west coast, in a killing claimed by the dissident republican group, the Real IRA.
Mr Donaldson was once a key figure in Sinn Féin's rise in Northern Ireland politics.
He was killed months after admitting that he had been an MI5 agent for more than 20 years.
In a statement issued on Monday, his family criticised gardaí for not arresting and interviewing a Royal Ulster Constabulary (RUC) Special Branch officer who dealt with the Sinn Féin official.
They have accused the agent handler, referred to as Lenny, of contributing to Mr Donaldson's death by exposing him as an informer.
"The family believe he is the person with the most serious questions to answer in this matter and we would urge, yet again, that the authorities to speak to him under caution and as a suspect in this case," they said.
"The family would also call upon all serving and retired officers who have information about Lenny and activities to bring that information forward to the authorities as soon as possible."