BHS Belfast: Plans to redevelop vacant store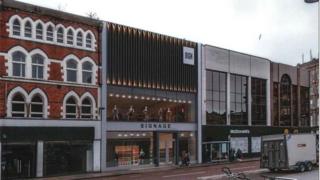 Plans have been submitted for the redevelopment of the former BHS shop in Belfast city centre.
It has lain vacant since the retail chain went out of business in August 2016.
The owner of the property, M&G Real Estate, wants to refurbish and reconfigure the building, splitting it into two retail units.
The plan also involves removing the existing shop fronts and replacing them with predominately metal cladding.
The scheme is described as being suitable as a major store for a national retailer.
The plans will now be considered by Belfast city council's planning committee.