Barry McElduff: Constituents react to Kingsmills video row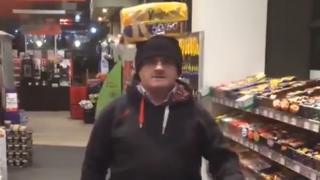 It's a video that's caused a lot of outrage and pain - and led to the three-month suspension of an MP.
It was on Friday when Sinn Féin's Barry McElduff posted a video to Twitter showing him with a loaf of Kingsmill bread on his head.
The video was filmed in Omagh, County Tyrone - right at the heart of Mr McElduff's West Tyrone constituency.
But the fallout from the post - that went online the same day as the anniversary of the Kingsmills massacre, in which ten people were killed - has been widespread.
Sinn Féin suspended the MP and its northern leader Michelle O'Neill described the video as "ill-judged" and "indefensible".
Mr McElduff himself apologised and said he "genuinely meant no offence" but politicians and victims have roundly condemned the post while DUP leader Arlene Foster described the three-month suspension as "pathetic".
In Omagh on Monday, outside Mr McElduff's constituency office, there was a mixed reaction to his suspension.
"It wouldn't be his intention to offend anybody but, at the same time, it took place and I think he might have had more thought before doing it," said one man.
A woman was more forthright: "I think he should've had respect really, at the end of the day. I think he should have done the right thing and resigned."
Walking through the town, there are posters of Mr McElduff in shop windows and on walls.
The town is at the centre of Sinn Féin's West Tyrone stronghold - the party has held the seat since 2001.
Mr McElduff was elected MP for the first time, replacing Pat Doherty, last June with a 11,000 vote majority.
A comfortable lead - but will this latest controversy change people's voting habits?
"I think it will have an affect on his vote," says another man near the constituency office.
"I understand he makes these sort of smart comments and is funny and has a light-hearted way of going but this just seemed to be in poor taste," he added.
Meanwhile, over at the shop - where the controversial video was filmed - no one is willing to talk.
However, they issued a statement to clarify "the video was not sanctioned or authorised by our management to be filmed on our premises".
"McCullagh's absolutely do not condone anything which may cause offence to anyone," it added.
"We are a local family-run business and we have been blessed with the support and countless friendships from all sections of the community in which we serve over this past 25 years."
Some of the strongest condemnation of Mr McElduff's video in the past few days has come from victims, particularly those connected to the Kingsmills Massacre.
But Omagh itself is no stranger to tragedy.
Cat Wilkinson's brother, Aidan, was one of 29 people, including a woman pregnant with twins, killed in the 1998 Omagh bombing.
She said the three-month suspension was nothing but a "slap on the wrist".
"Aside from being extremely immature and offensive, I found it to be repulsive and an absolute insult to the families, to victims," she said.
"Not just in the Kingsmills case but also to victims as a community in Northern Ireland.
"I was just absolutely disgusted when I saw it."
Ms Wilkinson added that Sinn Féin had taken the "easy option" and hinted that it could hurt the party in the future.
"I think they really need to go back into the room again and have another talk. I don't think this is really going to benefit Sinn Féin in the long-run and, also, Barry McElduff, who a lot of people have lost respect for."