Cash-for-ash cost controls removed twice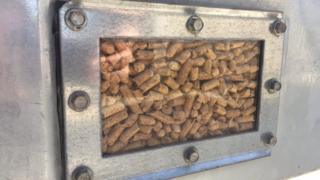 Cost controls were taken out of NI's Renewable Heat Incentive not once but twice, the public inquiry into the flawed green energy scheme has heard.
A law firm which specialised in energy had been hired to help officials here draft regulations for the scheme.
Arthur Cox solicitors were told to mirror the rules around cost controls in Great Britain.
It provided draft NI regulations for the enterprise department, which contained the cost controls.
But when the plan was put out to public consultation in the summer of 2011, there was no mention of cost controls.
Alan Bissett, a former partner in Arthur Cox, said he only found out several months ago that the regulations consulted on were not the ones provided by his firm.
Inquiry chairman Sir Patrick Coghlin said it appeared that the Department of Enterprise Trade and Investment (DETI) had two sets of regulations in the summer of 2011, one with cost controls and one without.
Inquiry counsel David Scoffield QC said the DETI had received a report from energy consultants CEPA which suggested that a cost control, known as "tiering", was not necessary.
It told the department that was because the cost of biomass fuel was higher than the subsidy.
That was an error.
Later, Mr Bissett was asked about the decision not to include an emergency suspension mechanism in the Northern Ireland scheme just before it started.
It had been brought into the scheme in Great Britain in July 2012.
He said he had flagged this up to DETI officials and asked if they wanted it included in the regulations here.
But at a meeting in east Belfast in September he was told they had decided not to go for it.
He was told officials knew the equivalent department in Britain was consulting on long term cost control measures and they preferred to "skip" what was seen as an interim suspension mechanism.
They told him they had decided to wait and see the outcome and then bring those changes into the scheme in Northern Ireland.
He described this as a "plausible" position, which he accepted.
Public consultation
Tiering pays a set subsidy rate for a set number of hours and then reduces it for all subsequent heat generated.
Arthur Cox was not told about the CEPA work and the second version of the regulations without cost controls.
When it was asked to review the draft RHI regulations after the public consultation they went back to the version of the regulations which they'd produced which included tiering.
When they sent the updated draft regulations to DETI in March 2012, tiering was again taken out by officials within DETI.
The scheme eventually went live in November 2012 without any form of cost control.
Mr Bissett said he found it "very strange" that DETI was producing its own draft of the regulations but he didn't mention it.
The inquiry, which is taking place at Stormont, was set up to investigate the circumstances surrounding the energy initiative, after its costs spiralled.
The RHI scheme offered to subsidise the cost of its claimants' fuel - mostly wood pellets - for running new renewable heating systems.
But the fuel actually cost far less than the subsidy they were receiving, effectively meaning that users could earn more money by burning more fuel.
The most recent estimate put the projected overspend at £700m over 20 years if measures to control the cost are not implemented.
The scandal generated significant public concern and the fallout led to a major political crisis in Northern Ireland that exists to this day.