Kingsmill video sectarian, says ex-IRA man Martin McAllister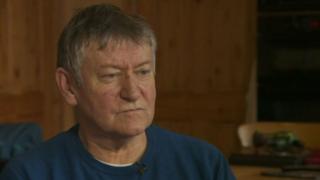 A former IRA man who was suspended from the republican movement due to his protest at the 1976 Kingsmills killings has said he believes Barry McElduff's video was "blatant sectarianism".
The video, posted on Twitter, showed the MP with a loaf of Kingsmill bread on his head on the anniversary of the Kingsmills massacre.
Ten Protestant workmen were shot dead by the IRA on 5 January 1976.
Mr McElduff insists any offence caused by the video was inadvertent.
However, that argument has been rejected by Mr McAllister, who was a prisoner in the Maze at the time of the killings and wrote a letter from his cell to express his disgust.
"I couldn't understand how somebody could pull in a minibus full of ordinary people - Protestant people - line them up and shoot them in the name of some cause," he told BBC News NI.
"I fear that he [Mr McElduff] did know what he was doing.
"To put it in perspective, I can't hear the name Kingsmill bread mentioned without immediately flashing back to what happened. So how could he miss that?"
'No excuse'
When asked what the possible motivation could be for the video, he said it was "profound, disgusting sectarianism".
He said that the republican movement has never come to terms with Kingsmills and that people try to explain it away.
"I've had this out with people on quite a few occasions, and there is a proclivity out there to try and divert away attention from the fact that republicans did this by saying "well it was in a certain context at that time". There is no excuse for what happened."
Mr McAllister said an honest effort to address the horrific incidents like Kingsmills from our past is needed to find a way through the current political impasse.
"If you look back on Bloody Sunday which was the motivating factor for a lot of people getting involved in armed resistance, David Cameron was fit to stand up and say what went on was wrong.
"Somebody in republicanism needs to stand up and say that too in regards to Kingsmills. It will give some relief perhaps to somebody like Alan Black."
Alan Black was the sole survivor of the attack but sustained 18 gunshot wounds.
Mr McAllister added: "We need to stand up and admit what it was we did, because we are doing it to ourselves. Almost everything that happened here over the past 40 years we have done to ourselves and unfortunately, we are still doing it.
"Saying that were not going back to the past; the argument about that doesn't hold water any more because we can never go back to the past; the electoral figures don't allow it any more.
"What needs to happen here is that somebody somewhere needs to make a decision and say we going to put our hands up: we did this."
A 'rogue' element
He rejected suggestions that it was a "rogue" element within the IRA which carried out the shooting.
"The people who actually carried out the deed that night; they would have been sent out. It was policy and it would have been policy at that time. Otherwise it would not have happened in that way.
"But somebody needs to clear this matter up, if only for the victims and survivors to give them some idea of what actually went on."
Taoiseach (Irish prime minister) Leo Varadkar has also criticised Mr McElduff's video as "very foolish, very inappropriate and very hurtful" to the Kingsmills families.
"Given his previous content on social media, I think it was perhaps a genuine error of judgement rather than an attempt to deliberately insult the families of victims," he said.
"Nonetheless, it was egregious. I hope that when he runs for re-election, or if he runs for re-election, that the people of his constituency will decide to elect somebody with more character."
Meanwhile, the office of the Parliamentary Commissioner for Standards has confirmed that it has received a formal complaint about the video and that Mr McElduff is still bound by the MPs' code of conduct despite not taking his seat in Westminster, in line with Sinn Féin's abstentionist policy.
However, it said it will not begin an inquiry until the PSNI has concluded its investigations.