Cloughmills crochet knitting image hooks village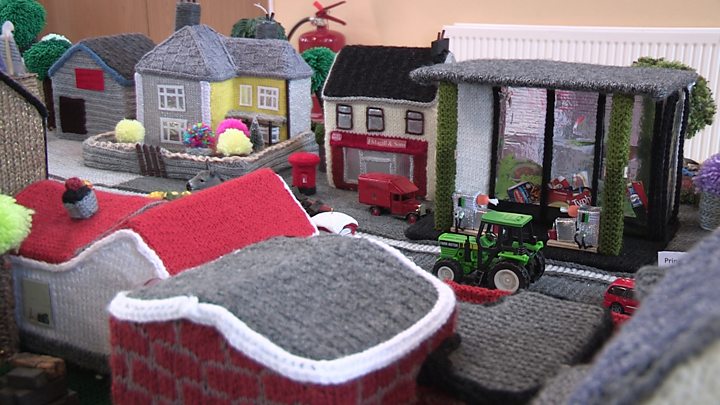 It's Cloughmills, but not - or knit - as you may know it.
The County Antrim village has been painstakingly recreated in wool over the last seven months by 30 members of the Cloughmills Crochet Club.
May Aitcheson started the club six years ago.
"I went to Cushendall to see a small model village people had made there and decided we should try this - but ours snowballed," she said.
"People did more and more and by the time they all got added on, ours ended up very big.
"I'm absolutely thrilled with it, I couldn't believe it turned out the way it did.
"The ladies worked so hard, I'm very proud of them."
As well as developing crafting skills, the crochet club is important in helping elderly people socialise in what can be an isolated rural community.
Club member Kathleen Taggart said: "I just love getting out and meeting people, it gives us all somewhere to go.
"When you're retired you miss your work, and this is better than work."
Mary Shaw said: "I've made so many friends and learned to do things I thought I would never be able to do.
"I live in an isolated place, and I've made friends from both sides of the community and that's an important thing for me."
Margaret Murphy said: "We just look forward to meeting up every week and getting the latest gossip."
As for what the group's next big project could be, she said: "That's what we don't know, I mean where do we go from here?
"Maybe a model of Belfast, but we'd need lots of helpers for that one."
The Cloughmills model will remain in the village's Orange Hall - because it's now too big to fit through the doors.
And as long as people want to see it, mini Cloughmills will remain on display.