RHI inquiry: Lawyer warned of weaknesses scheme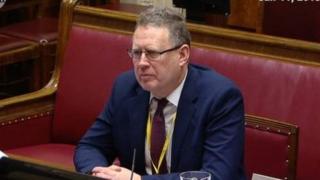 A lawyer for the body running the RHI scheme was so concerned by its potential weaknesses that he suggested his organisation defer its involvement.
Marcus Porter was giving evidence to the public inquiry into Northern Ireland's Renewable Heat Incentive (RHI) energy scheme.
He was a lawyer in E-serve, part of the Office of Gas and Electricity Markets (OFGEM).
In 2012, it was lined up to start administering the RHI scheme.
Mr Porter told his bosses that unless civil servants were prepared to postpone the launch, so that a suspension mechanism and other improvements could be built in, E-serve should defer getting involved.
In internal emails, he said that while the Department of Enterprise Trade and Investment (DETI) might be prepared to take on "unnecessary legal risks" resulting from the decision, his organisation "surely doesn't have to follow suit".
The Northern Ireland scheme was meant to replicate the one in Great Britain which had been running for about a year.
However, as RHI was due to launch, amendments were being brought in to the GB scheme.
These included a temporary suspension mechanism which could be triggered if there was a risk of overspend.
But officials in Northern Ireland did not want to wait to reflect the amendment.
The inquiry has already been told the officials believed it could delay the scheme by up to a year and were concerned some of the Treasury money set aside would have to be handed back.
'Constant rush'
They told E-serve they also had a commitment with their then minister, Arlene Foster, that the scheme would launch in autumn 2012.
Their plan was to start the scheme and amend it to reflect permanent cost controls introduced to the scheme in Britain.
Permanent cost controls were introduced in Great Britain.
Officials in Northern Ireland consulted on them in 2013 but did not introduce the measures.
Mr Porter said the relationship with DETI officials was good at the start but became "fraught" as the scheme launch got closer.
He said work was done in a "constant rush" and due to pressure of time he had to "hurtle" through some of the paperwork sent to him.
'Not listening'
"Had things gone at a more leisurely pace the whole project might have gone more smoothly and some of the difficulties encountered might not have occurred. Who can say?" Mr Porter said.
Inquiry counsel Joseph Aiken said there were a number of "forthright" emails from OFGEM to DETI along the lines of "well, you're not listening to our advice so there's no point in us giving it."
Mr Porter did not agree with Mr Aiken that the relationship was "dysfunctional", he said he preferred the term "unsatisfactory".
The inquiry heard about a key teleconference in June 2012 between E-serve and DETI officials at which the advice to delay introduction of the scheme in Northern Ireland was given.
The Northern Ireland scheme was due to launch a couple of months later.
'Avoidable mistake'
Mr Porter said it was important that the risk of going ahead without the amendments was "hammered home".
He said an E-serve minute of the meeting did not accurately reflect his comments and had been "watered down" though he did not know why.
He said the minute did not convey the "tone, the sense of urgency or the importance" of the advice he had delivered.
In his witness statement, Mr Porter said he and his colleagues were "concerned that DETI seemed set on making what might turn out to be an avoidable mistake and sought, in DETI's own interests, to dissuade DETI from taking that course".