Political cartoons draw Northern Ireland's history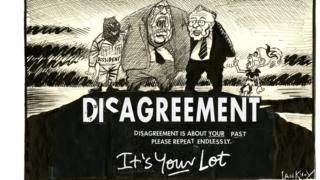 From sectarian violence to the peace process, Northern Ireland's political journey has been depicted by cartoonists for decades.
Whether a politician or television personality - few escaped the satirist's pen.
Events this week have shown that political cartoons still have the potential to stir debate and cause controversy.
Now, a new exhibition in the Linen Hall Library in Belfast displays memorable political cartoons about Northern Ireland that appeared in newspapers, magazines and comics in by-gone years.
It features the work of cartoonists such as Bernard Partridge in 'Punch' as well as the New Yorker's Gerald Scarfe and Nicholas Garland in the Daily Telegraph.
Two of the cartoonists who feature most prominently are the Irish News's Ian Knox and the late Rowel Friers, who worked for the Belfast Telegraph.
Veteran cartoonist Knox has been working for the Irish News for more than 20 years.
He said he fell into life as a political cartoonist almost by accident.
"The first time I did it for regular publication I was living in London and it was for two of the IMG [International Marxist Group] papers - Red Weekly and Socialist Challenge."
Drawing Northern Ireland
When he came back to Belfast, Mr Knox said he drew cartoons for Fortnight magazine as well as working on comics and for animation companies.
After he moved to the Irish News, Mr Knox also began working for the BBC Northern Ireland current affairs programme Hearts & Minds. He said drawing cartoons is "either a feast or a famine".
"Sometimes it's hard to pick just one thing to hang your hook on.
"It's not like square meals a day that you sit down to, but that's part of the fun - the moment of panic, then the rejection and then the acceptance and the rush to get it done, because you're always drawing at a high rate of knots," he said.
Another time
Mr Knox said he sees many of his cartoons now as being from another age, although many of those he depicted are still involved in politics.
Rowel Friers was Northern Ireland's original political cartoonist, according to his wife, Yvonne.
Mr Friers had been publishing cartoons from 1948. His column for the Belfast Telegraph initially featured news-based cartoons until the Troubles began in Northern Ireland.
Mr Friers died in 1998, but his legacy lives on in the cartoons he drew for the newspaper, on display in the Linen Hall Library.
Cartoons 'Dole Office' and 'Blankety Blank' from 1980 both feature in the exhibition.
Public criticism
When it comes to political figures, Yvonne Friers said everyone her husband featured was proud to be in his cartoons.
However, there was one politician the cartoonist particularly enjoyed depicting.
"Dr Paisley would have stood out for me as one of his favourite subjects to draw," she said.
"People understood Rowel and knew there would be nothing malicious in his humour. Dr Paisley always said he enjoyed my husband's cartoons more if he was in them."
Meanwhile, Ian Knox said that he got criticism during his long career as a political cartoonist, adding: "It doesn't stop me."
"For me, if I get a cartoon right, I remember them more than the event that caused it," he said.
An accurate depiction
Drawing an accurate picture of a politician is the best part of Ian Knox's job, he said.
"What I really enjoy is finding someone who is thought to have regular features and getting a good likeness of them, finding what is idiosyncratic about someone who appears to be bland and doing something extreme with them."
New Secretary of State for Northern Ireland Karen Bradley has already featured twice in his cartoons, although he added: "I haven't really got her yet."
Yvonne Friers can remember one cartoon that had an impact on her. "It was a big four-column cartoon in the Belfast Telegraph.
"It was about the visit of Ian Paisley to Rome. It showed a tiny little Roman street boy with chalk, he was standing in front of a wall. He had written 'No Paisley here' on the wall."
Some of both Mr Friers' and Mr Knox's best cartoons can be seen on the walls of the Linen Hall Library, but Ian Knox said it surprises him how much of the past he's forgotten.
"I think the overwhelming impression that we get looking back on our patch is just how pointless the violence was and how violence is the most reprehensible thing. It didn't need to have happened. Our problems never needed violence to sort them out," he said.