Gerry Adams: Abuse scandal put family under spotlight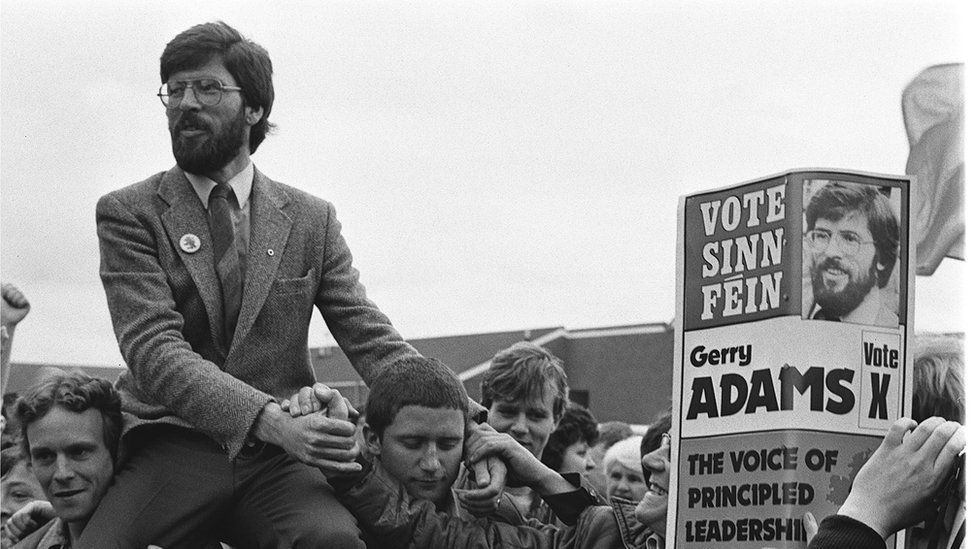 By the time his family settled in Ballymurphy, Gerry Adams was one of ten children.
Like many republicans, for years he shielded siblings and extended family from publicity.
Exposure was seen as vulnerability, opening them to possible harassment, arrest or to being targeted by rivals.
A number of extended family members were involved in the IRA and had been jailed and interned.
Secrecy for such a family, particularly as Gerry Adams rose in republican ranks, was a way of life.
He said that, when confronted with the claims, his father had remained in denial.
Adams Snr had been buried with republican honours, his coffin draped with the Irish tricolour. His son said that had been a "great dilemma", adding that he believed his father had "besmirched" the flag.
There was initially sympathy for the family in republican areas which had seen a succession of high-profile abuse revelations, many of them related to Catholic clergy.
As details of his niece, Áine Tyrell's allegations emerged, however, the Sinn Féin president's role in a personal family upheaval came under more public scrutiny and political pressure.
Waiving her legal right to anonymity, Áine Tyrell first voiced the allegations in a UTV programme in 2009.
In response, Gerry Adams urged his brother to turn himself in to police. He said he had been told of the allegations in 1987, reportedly then taking his niece to confront her father who, at first, denied everything.
He also said that Áine and her mother were accompanied by a family member to see social services and that her mother had subsequently brought her to the police.
After the broadcast, Liam Adams went to a Garda station but was released because there was no European Arrest Warrant. Liam Adams said he felt the PSNI would be unfair to him but opposition to extradition was ultimately unsuccessful.
A border handover took place early in November 2011. More than two years later, in April 2013, Gerry Adams was a witness at his brother's trial.
Political and media attention concentrated on how he had responded years earlier when his brother had finally made admissions to him about the assaults.
He denied his police statement was self-serving, telling the court: 'If I had been interested in saving my political skin, I would not have got involved in this process at the beginning and tried to fulfil my responsibility as an uncle for a young woman who I am very fond of and I have a large family and I would not have tried to do my best to resolve this the way that I have outlined to you earlier.
Years of abuse had started when his daughter was five as her mother was in hospital giving birth to a brother. The judge described what had happened as the "greatest imaginable breach of trust".
By then a mother of two children, Áine Tyrell described the 16-year sentence as "much too little, too late".
As shocking as the details were, much of the political fallout from the case focussed on whether the Sinn Féin leader had failed to protect young people in his west Belfast constituency or in Dundalk.
Liam Adams had worked in community and youth centres in both locations. Gerry Adams said social services and police knew of the allegations and that, when his brother had taken a post working with young people in the Clonard area, he had informed a local priest who had died some years prior to the court case.
The centre in Dundalk said it had not been made aware of any abuse allegations concerning Liam Adams who, at one stage during his time there, was pictured with his brother at a Sinn Fein election event in the town.
From the time of the UTV broadcast, Áine Tyrell had contested aspects of her uncle's accounts.
She told one newspaper she had raised concerns with the Sinn Féin leader frequently from late 2003 to late 2005 when she had last been in contact with him and that, rather than protect her anonymity as Gerry Adams had suggested, she had been prepared to make the allegations public years earlier.
She said: "I was very concerned that Liam was seeking jobs working with children. Gerry told me that was Liam's way of trying to make up to the community for what he done to me. I kept telling Gerry to get Liam out of the youth groups."
There is little question that the very public family friction and details that emerged in court had a wider implication at the time. There were calls from opponents for Gerry Adams to resign. Some predicted his imminent demise as party leader.
While criticism from opponents could be expected, privately some Sinn Féin supporters questioned his actions, something largely unheard of among republicans.
Equally, however, there appears little question that the court case's revelations inflicted little long-term political damage.
Gerry Adams continued to represent the Louth constituency in the Dáil and, unchallenged from within, steered his party through a series of elections, political talks and crises.