Donegal bridge fall victim was from County Fermanagh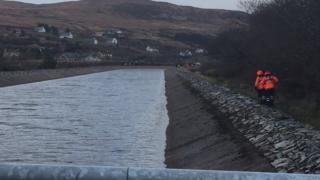 A body has been found in the search for a man in his 60s who fell from a bridge in north-west Donegal on Monday.
A man's body was located 200 yards (183m) from the bridge at An tArd Donn in Gweedore at 14.40 local time.
RTÉ reports that the man, from Ederny in County Fermanagh, was working on the bridge when he fell into the hydro-electric canal.
The search involved the police, coastguard and divers from a local sub-aqua club.