Translink 'needs £13m' to fund unprofitable local buses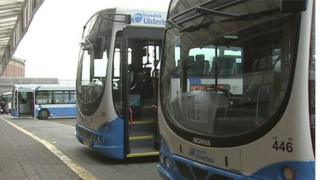 People living in rural communities could be left without local bus services because they are not profitable.
Translink, Northern Ireland's public transport operator, said it is losing about £13m a year running rural buses.
It has drawn on its own reserves since 2014, but a spokesperson said this was no longer sustainable.
If a solution is not found, these vulnerable local bus services could be axed.
According to a story in the Belfast Telegraph on Tuesday, the operator said it needs the £13m subsidy to keep operating these "unprofitable, but socially necessary," services.
A spokesperson for the bus operator said: "Translink has maintained the public transport network without the sufficient subsidy required to operate unprofitable but socially necessary services.
"The subsidy required to run these services is around £13m per year.
"Since 2014-15 Translink has drawn on its own reserves, however, this is no longer sustainable going forward."
The spokesperson said Translink would continue to deliver the existing level of services and any changes would require public consultation.
The Department for Infrastructure said: "The current position is that Translink will continue to deliver the existing range of services.
"The budgetary outlook briefing paper published by the Department of Finance last month outlines a number of future budget scenarios and explains that the funding will not be available for Translink to deliver the full range of services from 2019/20."
The spokesperson said decisions on such services lie with Northern Ireland's ministers and any changes would require public consultation.
Last August, Translink warned that it would need an extra £12m in 2018/19 to keep operating at current levels.
The public transport operator is funded from a combination of fares and government grants.
But its government funding has fallen by almost £16m or 20% since 2013/14.
The Institution of Civil Engineers has called for the government to step in and subsidise vulnerable services.
"One in five people in Northern Ireland have no access to a car," said regional director Richard Kirk.
"This doubles to two in five people in underprivileged areas. Without crucial transport services, people will be cut off from economic opportunities and their quality of life will suffer."
Mr Kirk said it was urgent that the Executive was up and running so that Northern Ireland's infrastructure could be prioritised and subsidised.
Brian O'Neill from the Slugger O'Toole website told Radio Ulster's Talkback that the issue was one of creativity.
He said Translink ran 60-seater buses which did not always make economic sense.
"Translink only have the model of one, big large bus, we need to look at more creative, imaginative services like ride sharing, subsidising local taxis and private buses," he said.
"The issue is if they remove the services and don't replace them. That's a problem. But remove the services, take the money and offer more imaginative and useful services - this could be beneficial."
Steven Agnew, leader of the Green Party, said rural communities would be "starved of vital support" if Translink cut unprofitable routes.
"The whole point of publicly-owned organisations like Translink is that they provide unprofitable but socially necessary services with the help of subsidy from government," he said.
"If they can't provide these vital lifelines, then it brings into question their very existence."
Translink is due to launch the Belfast Rapid Transit (BRT) service in the autumn of 2018.
It is also understood to be examining the possibility of introducing electric buses on its Metro network in 2019.