Holocaust survivor returns to Millisle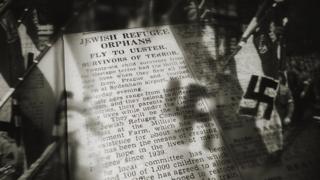 She survived the horrors of Auschwitz and Bergen-Belsen, where most of her family were murdered by the Nazis.
But it was on the County Down coast that Rachel Levy began to recover from the Holocaust.
She was among a small number of Jewish orphans brought to live in a farm near Millisle in the immediate aftermath of World War Two.
BBC News NI met her as she returned to the town for the first time in 72 years.
The Jewish refugee settlement farm had been set up in 1939 for young Jewish refugees fleeing Europe on the 'kindertransport.'
Mrs Levy, however, was among a group of 39 teenagers brought there in 1946, after the war ended.
All were concentration camp survivors.
Now 88, Ms Levy remembered encountering the notorious Nazi doctor Jozef Mengele at Auschwitz.
"He presented himself as a very kind man, but he wasn't," she said.
"He was cruel and he was involved in lots of experiments that are too horrific to talk about.
"He selected who would live and who would die, and those who would die were going to the gas chambers."
Memories of Millisle
During her visit, Mrs Levy visited pupils at Millisle Primary School.
Outside the school is a large, striking sculpture of a gold star - a permanent memorial to the town's role in helping survivors of the Holocaust.
Pupils sang for her and read poetry, while she spoke to them about her life.
She told them that she had been "lucky" to be brought to Millisle.
"We were well looked after," she said.
"Because we had all been in concentration camps we were undernourished and small for our ages, and we needed help.
"There were dormitories that we slept in, and a dining room and a beautiful view of fields.
"We relished the food served to us and there were cooks to serve the food.
"We started to feel that we were alive."
Later, Mrs Levy settled in London where she taught, married and had two children.
She said that it was important that the children in Millisle Primary were learning about the Holocaust.
'Future generation'
"I find that they are so knowledgeable about things and want to learn," she said.
"One just hopes that it's the beginning of a life that will be different for them, and that we won't have the horrific things that are still happening in this world.
"The future generation is, hopefully, going to be better than my generation.
"The very fact that they are interested, and they will take that away and improve life, is very important."
Mrs Levy's return to Millisle was organised by the Executive Office and Ards and North Down borough council to mark Holocaust Memorial Day.