Weekly papers: Potholes galore, IRA bomber row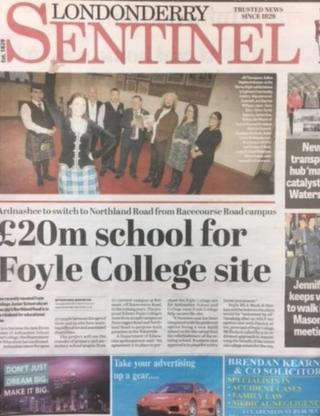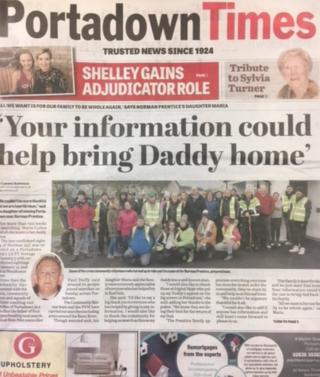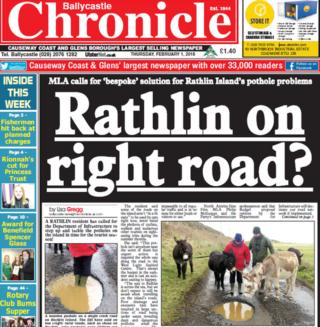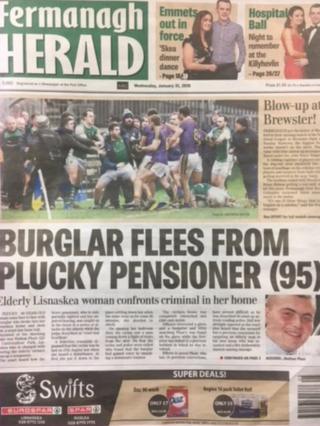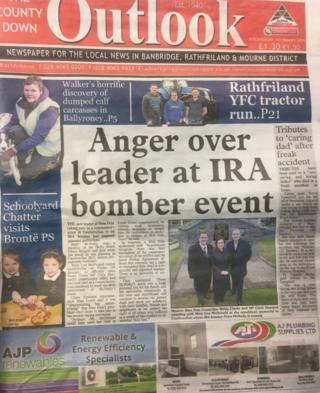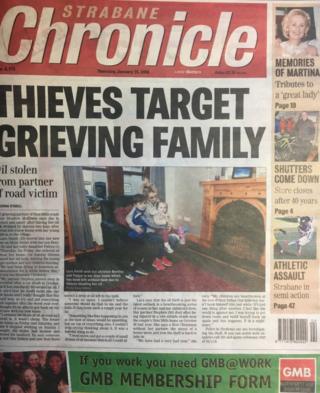 A grieving woman whose partner died in a car crash in November has had yet more heartbreak to deal with.
Lara Smith, 25, had just moved to a new home on Main Street in the town when she was targeted by thieves.
Her boyfriend Stephen McElwee died following a two-vehicle crash on the Sion Mills road in November.
The mother-of-two ordered oil on Friday to heat the new home and all 500 litres were stolen on Sunday.
She said she had been "devastated" by her partner's death and thought moving to a new house would help the family "put everything back together".
"We've had a very bad year. My children are heartbroken," she told the Strabane Chronicle.
Holy problems
Potholes, potholes, potholes - it seems Strabane has not escaped them.
Last week the Department for Infrastructure (DfI) released data about affected roads in Northern Ireland.
The Derry Road leading to Patrick Street is the worst affected, with 38 defects, the paper reports.
UUP Councillor Derek Hussey says there has been a "dramatic increase" of potholes and tells the paper he has been receiving an increasing number of reports from concerned constituents.
And he feels the matter is not being dealt with quickly enough.
"The situation is a point of real concern for users when reported potholes remain unattended for an inordinate length of time," he said.
The DfI told the paper that over the Christmas period temporary repairs were carried out on defects, with permanent repairs planned to be carried out "as quickly as possible".
Donkeys in Rathlin
There's something of a running theme this week, because the Ballycastle Chronicle reports on a similar problem on its island neighbour.
Rathlin Island may be beautiful - but it seems the area also suffers from potholes, despite the lack of traffic.
And both locals and wildlife aren't happy.
One resident has called on the DfI to fix the problem and it seems it's not just people who are concerned - other regular roads users seem perturbed by the potholes.
A picture shows the resident ankle deep in a pothole with her three little donkeys inspecting the watery crater.
"Urgent action is needed," she tells the paper.
"The way to Rathlin is across the sea but we don't expect to still be aware when travelling on the island's roads.
"The road is becoming impassable to all regular traffic and is in no state for either locals or visitors to use," she adds.
'Disappointing but unsurprising'
There is anger in County Down over Sinn Féin's new president.
The Down Outlook reports on Mary Lou McDonald's attendance at a commemoration for an "IRA bomber" who tried to blow up a police station in 1972.
Peter McNulty was killed in a premature bomb explosion during an attack on Castlewellan RUC base.
Mrs McDonald attended the commemoration along with party colleagues MP Chris Hazzard and Mourne councillor Willie Clarke.
Ulster Unionist Alan Lewis said it was "disappointing but unsurprising".
"Perhaps Mrs McDonald could have used her visit to South Down constructively by visiting local businesses, schools, hospitals or simply take the opportunity to apologise to victims of IRA violence," he added.
Sinn Féin said in response that while it recognised there was "hurt throughout the community" there was "no hierarchy of victims".
The party described Peter McNulty's death as a "personal loss for his family and the nationalist community".
'Shame, tragedy'
Fly-tipping is becoming a problem in Rathfriland, the paper reports.
One local business owner claims the carcasses of three calves were dumped on a roadside and have rotted away.
Vanessa Drew told The Outlook the situation is so bad that she is too embarrassed to let any guests at her B&B walk down the road.
"It's a shame, it's a tragedy, it is very unnecessary really," said Ms Drew.
She said she would be reporting it to Armagh, Banbridge and Craigavon Borough Council.
She added that the area was important to local wildlife.
"There are more dragonflies there than anywhere else in the UK and this was one of the reasons why the refuse site was moved," added Ms Drew.
Times are a changing for school children in the north west.
The Londonderry Sentinel reports that the recently vacated former Foyle College Junior school will now become home to an educational facility for children with learning difficulties and associated disabilities.
The Cityside site on Northland Road in Derry closed after the junior school moved to the new £23.5m home on the Limavady Road in the Waterside in January.
Foyle SDLP MLA Mark Durkan told the paper the plans were "welcomed by all".
The paper also says there has been a strong reaction to a shop's closure.
Primark is set to close its branch in Lisnagelvin Shopping Centre.
SDLP Councillor Martin Reilly said he was shocked at the news and spoke to some of the concerned staff affected.
The store will close in April, but all employees will be offered "relocation opportunities" at the shop in the city centre.
In a statement, the company said its store on Newmarket Street would undergo a major refurbishment and any employee who doesn't want to move will be given the chance to relocate to other Primark stores throughout Northern Ireland.
'Plucky pensioner'
There's a "plucky" pensioner on the front page of this week's Fermanagh Herald.
The 95-year-old woman, who is partially sighted, came face-to-face with a man as he burgled her Lisnaskea home, a court heard.
She confronted the intruder after hearing a noise in her home in Castlebalfour Park and he reportedly fled from the scene.
However, she discovered her house had been completely ransacked and £200 had been taken.
The judge slammed those behind "cruel heartless attacks on the elderly".
'Want dad home'
A heartbroken family makes a desperate plea on the front of the Portadown Times.
Norman Prentice, 55, went missing about two weeks ago.
Police and community volunteers have spent that time searching in a bid to find the father-of-four.
His daughter Maria thanks those who have been helping in the search and tells the paper that the family "just want dad home".
"All we want is for our family to be whole again," she added.
Finally, forget Broadway - Portadown is where it's at for an all-singing, all-dancing night out.
The paper reports that a "West End-style entertainment hub" is planned for the town.
Numerous plans are afoot.
The town is getting a £50,000 cash injection for lighting and decorations, and there are plans to extend retail opening hours.
The council has also put forward a plan for a Millennium Arts Centre Educational programme as well as a whole host of other ideas, including a "cultural diversity festival".
According to the paper, the long-term aim is to connect the riverside to the town.