Fire service deal with blaze at military barracks in County Down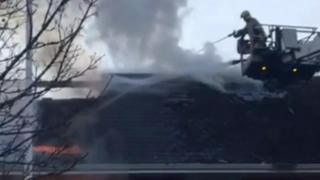 There has been a fire at Palace Barracks in Holywood, County Down.
The fire at Royal Irish Regimental headquarters was reported just after 07.10 GMT on Wednesday and was dealt with by 12.32 GMT.
The blaze was in a two-storey administration building.
Six fire appliances attended the incident and the cause is under investigation. There are no reports of any injuries.
Major Colin Gray, Regimental Secretary, Royal Irish Regimental headquarters, told Forces Network Radio that damage had been caused to the roof of the building.
Two statuettes and a cigar box were among the items recovered by firefighters.
"We are very lucky that the fire started at one end of the building, the end of the building which had less of our valuable artefacts and our history," Maj Gray said.
"The other end of the building where the really valuable regimental memorabilia was isn't quite as badly damaged.
"The fire brigade managed to get most if not all of the really important stuff out.
"We have been in this building as regimental headquarters for 10 years now.
"We do have to find another building now. Outside this building we have our memorials including the clock tower which was relocated from St Patrick's barracks in Ballymena when that was closed down, so there is a whole decision process to be made about where we set up in future and what we do with all the memorials etc."