Grandmother burgled during brain surgery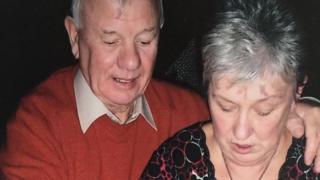 A grandmother has made an emotional plea to burglars who stole her jewellery while she was in hospital having brain surgery.
Christine McCartney's engagement ring and a chain given to her by her late husband, before they were married, were both taken.
Rings given to her by her daughter, who died suddenly in April last year, were also stolen.
The 78-year-old said it would mean "everything" to get the pieces back.
It is thought the thieves took a crowbar to Mrs McCartney's door in Shanreagh Park in Limavady, County Londonderry, while she was at the Royal Victoria Hospital in Belfast between 26 and 31 January.
"All the cupboards and drawers were pulled out and looked through," said Mrs McCartney.
"They have taken all my good, gold rings, my engagement ring and sapphire rings and my mother's wedding ring.
"The only one I have now is my eternity ring because it was safe at the jewellers being resized.
"Everything else in that box was taken. I have no idea what the value of the rings is, but they meant everything to me.
"There was a wee cross and chain that my husband got me the day we got engaged."
Mrs McCartney said it was "horrible" to think about the thieves being in her house.
"I am really furious that someone would do that to me when I was in the hospital, I think it's absolutely diabolical."
Forced entry
Her son, Gordon McCartney, believes the thieves knew his mother.
"Nothing else was taken from the house," he told BBC News NI.
"How else would they have known she wasn't around?"
Police in Limavady said they were appealing for information following the report of a burglary at a house in the Shanreagh Park area on 31 January.
Det Sgt McColgan said: "Sometime over the past week, entry was forced into the property and rooms were ransacked. It is understood various items of sentimental jewellery were stolen."