'Significant gaps' at Stormont talks - DUP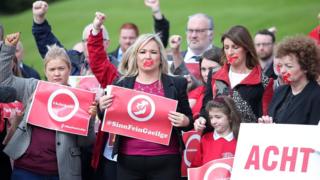 Significant gaps remain in talks to restore devolution in Northern Ireland, the DUP has said.
Northern Ireland has been without a power-sharing government for a year, after a coalition led by the Democratic Unionist Party (DUP) and Sinn Féin collapsed.
The five main parties were involved in talks on Monday.
Speaking afterwards, the DUP's Simon Hamilton said the talks process could not be allowed "to run on and on".
He said there must be an accommodation "that is fair, that is balanced, that is capable of being supported by all sides and it leads to a sustainable Assembly.
"We have... huge differences between the parties on a range of key issues and we have been working through those issues," said Mr Hamilton.
"We've made some progress on many of those issues, but there are still big - and in some cases quite significant - gaps."
Sinn Féin's Conor Murphy said his party had entered into the latest talks to see if a resolution was possible.
"We have made some progress, but there are still gaps there," he said.
"This process will come to an end in the next short while and we will make a judgement then as to whether a deal is possible or not.
"I would imagine we're talking days. We had said at the start, and I think everyone shares that view, that we can't have indefinite talks."
Following Monday's talks, the UK government said there was a shared commitment among the parties and good progress had been made, but difficult issues remain.
"Our assessment is that an agreement in the coming days, while not certain, is achievable. Time remains short. We all need to focus our collective efforts in the coming days on working together to form an executive," a spokesperson said.
In a statement, the Irish government said it shared the UK government's assessment on a shared commitment "across all parties to see the devolved institutions operating effectively in the interests of all the people of Northern Ireland".
"Time is short, but the prize is one worth stretching for," it said.
'Very toxic relationship'
The SDLP's Nichola Mallon said her party had believed they were going to be involved in inclusive all-party talks on Monday.
"What we got today was more of the same," she said.
"It looks like it's going to continue to be an exclusive, two-party process with two parties with a very toxic relationship."
Ulster Unionist Steve Aiken said it was a day of "frustration and disappointment".
"We have seen throughout this period - over a year - we have seen absolutely no progress at all reported by the other two parties [DUP and Sinn Féin]," he said.
"Today we had the situation where we're being asked to give them even more time and we are not being given the opportunity to discover what the DUP and Sinn Féin have been working towards."
'Groundhog day'
Alliance Party leader Naomi Long said the talks were "like groundhog day".
"I think time is very short," she said.
"There is an opportunity still for a deal to be done, but I think at the moment we could not have any confidence that that deal will be done if the process continues as it has to date."
'Wake up' challenge
Discussions began in January in a bid to break the impasse at Stormont and restore the power-sharing executive.
Secretary of State Karen Bradley is due to update the House of Commons on progress later this week.
Last week, Ms Bradley was questioned by MPs about progress in the Stormont talks.
She appeared before the Northern Ireland Affairs Committee at Westminster on Wednesday and provided an update on the ongoing negotiations at Stormont.
The head of the civil service in Northern Ireland, David Sterling, told MPs there needs to be clarity about a budget by 8 February.