Children left shocked as men break into house in north Belfast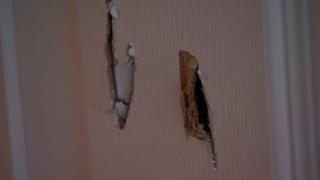 Four children have been badly shaken after a gang of men broke into their north Belfast home on Saturday.
Three men forced their way into the house at Arbour Street at 14:05 GMT.
Police said two men and a woman were in the house with the children. It has been reported they had knives and a crowbar and threatened one of the men.
Although no-one was hurt, they were all left "extremely shocked," according to the PSNI. The door and walls were hacked and damaged as the men broke in.
Police have appealed for information.