Robert Flowerday: Murdered teacher mourned at funeral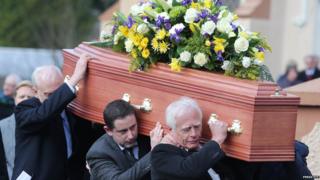 Hundreds of people have lined the streets of Crumlin for the funeral of a retired school teacher found murdered at his County Antrim home.
Robert Flowerday, 64, was found dead at his house on Mill Road, Crumlin, on 28 January.
A 33-year-old man has been charged with his murder and has been remanded in custody.
Mr Flowerday taught for many years at Antrim Grammar School and later tutored young people.
He lived alone and was well known in Crumlin where residents described him as a quiet and gentle man.
The service was held at Crumlin Presbyterian Church and was conducted by the Rev Leslie Addis, a friend of Mr Flowerday.