NI university lecturers to strike over pensions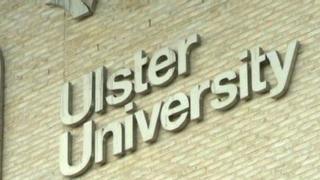 Ulster University (UU) faces 14 days of strike action from many lecturers, starting on 22 February.
It is also expected that Queen's University Belfast will be affected in a similar way.
The action by University and College Union (UCU) members is being taken due to a dispute over planned changes to staff pensions.
It is expected that there will be disruption to classes, lectures and other university activities.
The UCU has around 600 members at UU.
The move by lecturers at the university follows a strike vote at 61 universities across the UK last month.
Staff are angry at plans to change the Universities Superannuation Scheme (USS) from a defined benefit scheme - where they would have a guaranteed income in retirement - to a defined contribution scheme, where their pensions would be subject to changes in the investment markets.
It is claimed the changes could cost an average lecturer £200,000 over the course of their retirement.
UCU members at Ulster received an email on Tuesday instructing them not to work or cross picket lines on 22 and 23 February.
They plan to do the same on 26, 27 and 28 February.
Further strike action is planned for a further nine days during the first two weeks of March.
The email circulated to UCU members at UU also tells them not to reschedule work that is meant to be done on those dates.
"This is a very serious situation which will affect all of us now working in the university," it said.
'Direct action'
"No-one wants to strike and no-one wants to lose money and there will be a hardship fund available which we encourage you to avail of."
"However, it is clear that only direct action will affect our employers."
An Ulster University spokesperson said that pension reform required difficult decisions to be taken.
"We understand the strength of feeling amongst some staff arising from the reform," said the spokesperson.
"An affordable solution will be essential to allow a sustainable higher education sector."
"Industrial action is regrettable, but we will take measures to minimise any disruption to the student experience and for staff across our campuses."
The BBC understands that the UCU at Queen's University are expected to confirm on Wednesday whether to follow their colleagues at Ulster.
As there are over 900 UCU members at Queen's, many of whom are lecturers, any strike action there would also lead to classes and lectures being cancelled.
The strike action has been criticised by the umbrella organisation for higher education, Universities UK.
The National Union of Students have, however, previously indicated their support for the UCU action.