NI economy set for two-year dip - Ulster University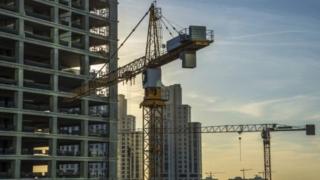 The Northern Ireland economy is forecast to be slightly weaker this year and next, according to Ulster University experts.
They said the dip was partly due to a better-than-expected 2017, when strong exports helped offset a squeeze in consumer spending.
Growth in 2017 was 1.4%, but is predicted to fall to 1.2% this year and 1.1% in 2019.
The university's Economic Policy Centre also believes inflation will ease.
Concern has been expressed about access to foreign workers in the context of Brexit.
One in 10 workers in Northern Ireland is foreign-born.
"If the number of in-bound migrants falls significantly, local employers will be faced with a number of options," said centre director Gareth Hetherington.
"Either encourage more local people back into the labour market possibly through higher wages, increase levels of investment in labour-saving technology, or move to other jurisdictions with easier access to foreign labour."
The centre also pointed out how economic inactivity has increased to 22.7%.
Mr Hetherington said the number of people inactive through long-term sickness had jumped by about 15,000 between 2016 and 2017, which "is broadly equivalent to the reduction in unemployment."
He added: "In a labour market where job growth is slowing, this suggests a flow of people from unemployment into economic inactivity.
"This in turn indicates that current unemployment programmes to move claimants back into employment are failing a significant number of people."