RHI: Poultry farmer feels 'conned' over energy scheme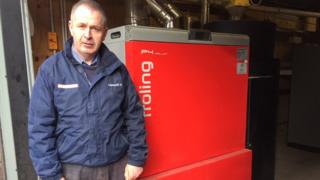 A County Tyrone poultry farmer has said he feels "conned" by the government over the Renewable Heat Incentive (RHI) scheme.
Colin Watt borrowed £380,000 to invest in the technology.
He said he did it on the strength of promises and encouragement from executive departments.
With eight years left to go on the loan, he said tariff changes had left him "paying the price" of mistakes made by others.
The Department for the Economy said the poorly-designed scheme overcompensated users and it had to be changed to bring it back in line.
In December, the Renewable Heat Association - a body representing 500 boiler owners - lost a court case challenging the reduced tariff levels.
During the case, the department argued that the scheme was meant to incentivise businesses to switch to renewable heat, not to subsidise them.
But Mr Watt said profits from his dairy and poultry interests now had to be offset against his biomass costs, and he thinks that is unfair.
"I feel conned. I can't think of a better word," he said.
"If your government and all the different agencies promote a scheme to you and encourage you to spend big money and you borrow on the strength of their promises, and then two years later they go back on their promises, I think it would be natural to feel conned."
Hundreds of poultry farmers are in the RHI scheme.
They use the boilers to heat their chicken sheds.
Boiler owners say the price of pellets has risen steadily in recent months due to a European shortage.
Mr Watt said that under the original tariff, his RHI payments were about £16,000 a month.
That was roughly what it cost him to run his seven boilers, including bank repayments, fuel cost and servicing and electricity bills.
Now, after the tariff changes, RHI payments for his seven boilers amount to £6,000.
He said he is paying for the mistakes made by consultants and civil servants who designed the scheme and his business is down £120,000 a year.
The Department for the Economy has announced its intention to extend the reduced tariffs for another year, pending a public consultation on longer-term options.
The department told the court that without permanent cost controls the RHI scheme could result in a £700m overspend over a 20-year period and that would have to be met by Northern Ireland taxpayers.
Boiler owners have contested that figure and claim it was vastly inflated.