'Lone wolf' Connor calls counsel liar at appeal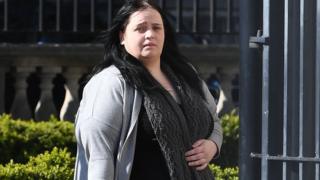 A woman who claims she was pressurised into pleading guilty to attempted murder has called a former legal representative an "absolute liar".
Christine Connor also told the appeal court she was very unhappy at being called a "lone wolf" dissident republican.
Connor, 32, is appealing against her conviction for pipe bomb attacks on the police in north Belfast in 2013.
She was jailed for 16 years and four months last June.
A prosecution lawyer told the appeal court that Connor had been fully aware of the implications when she pleaded guilty.
Her defence say the fact that she also said she was innocent, while pleading guilty, should have led to the plea being queried.
'How dare you?'
On Tuesday, her previous legal team was questioned.
At one stage, Connor caller her former senior counsel "an absolute liar".
In a number of outbursts in the courtroom, she shouted "how dare you?" and "shame on all four of you!" - apparently referring to a number of former legal representatives.
She was rebuked by one of the judges and told to write down any objections.
Connor said she felt pressurised into pleading guilty, saying: "I was weak enough to allow four men to manipulate me."
'Tend to go off on one'
The court was told she was not expecting to be acquitted, but also that she could not show remorse for crimes she had not committed.
Connor was stopped several times during her testimony by the appeal court judges.
One judge said he had difficulty following her statements.
He said to her: "You don't answer the prosecutor's questions and tend to go off on one."
Connor also said she suffered considerable distress at being described as a lone wolf republican, which she said was derogatory and demeaning.
The appeal hearing continues.