NI Secretary Karen Bradley rejects same-sex marriage call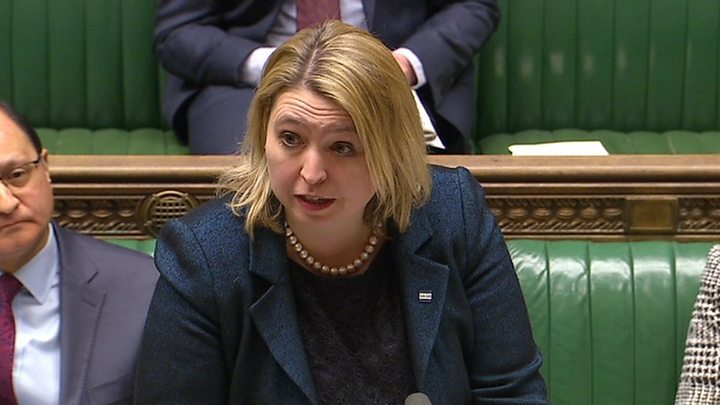 Northern Ireland Secretary Karen Bradley has rejected a suggestion by the Labour Party that she should remove same-sex marriage from the Stormont talks agenda by legislating for it at Westminster.
Mrs Bradley told Labour's Owen Smith that Stormont is the right place for same-sex legislation to be enacted.
She was updating the House of Commons on negotiations at Stormont.
Round-table talks ended on Monday without any sign of a deal.
The government insists agreement is still achievable.
When she launched the talks, Mrs Bradley promised to keep MPs informed on what progress, if any, is made.
Asked by the DUP's Nigel Dodds about the urgent need for a Stormont budget, Mrs Bradley pointed out that her predecessor James Brokenshire had previously legislated in this regard and hoped this would provide reassurance.
The North Down MP Lady Sylvia Hermon said she has been told that the engagement with the smaller parties - the Ulster Unionists, the SDLP and Alliance - amounted to "a cup of tea and a chat".
Mrs Bradley insisted she had been meeting the leaders of the smaller parties.
After a failure to produce any tangible movement on Monday, the government said more talks would be held on Thursday.
Responding to the Secretary of State's remarks in the Commons, SDLP leader Colum Eastwood said the public had been promised an update and instead "all of us have again been left none the wiser."
"Today in Westminster there were no answers, no detail and no leadership. Instead the Secretary of State once more gave cover to the secret talks of the DUP and Sinn Féin," Mr Eastwood said.
Sensitive discussions
Answering questions in the Dáil [Irish Parliament] on Tuesday, Taoiseach [Irish Prime Minister] Leo Varadkar described the Stormont discussions as very sensitive.
He suggested it was not a good time for any politician to say anything which might cause others to take offence.
Northern Ireland has been operating without a devolved government since January 2017, when a coalition led by the Democratic Unionist Party and Sinn Féin split in a bitter row.
After Monday's round-table session, DUP MLA Simon Hamilton said there were "huge differences between the parties on a range of key issues".
"We've made some progress on many of those issues, but there are still big - and in some cases quite significant - gaps," he said.
Sinn Féin's Conor Murphy said the talks could not continue indefinitely and a judgement on "whether a deal is possible or not" would be made within the "next short while".
"I would imagine we're talking days," Mr Murphy added.