Williams Industrial Services: Nearly 150 jobs lost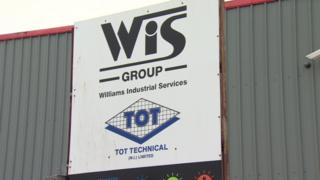 A County Antrim engineering firm has gone into administration, with the loss of 145 jobs.
Williams Industrial Services in Mallusk "ran out of funds" after "contractual disputes," the administrators said.
The firm was established in 1983, with most of its customers based in Great Britain and the Republic of Ireland.
Its chairman John Toner said it was "with deep regret" that the company had gone into administration.
At its height, the business had an annual turnover of £50m.
It was one of the largest providers of environmental engineering technology on the island of Ireland.
Stephen Cave, of administrators PwC, said: "Whilst we are urgently reviewing the company's financial and trading position, we have unfortunately had to make the majority of the workforce redundant with immediate effect."
A subsidiary company, Tot Technical NI Limited, is also set to go into liquidation.
It employed 15 people at premises nearby.
'Rescue rejected'
In a separate development, talks aimed at saving the Schlumberger factory in Newtownabbey, County Antrim, have broken down, according to the Unite trade union.
The oil field services firm announced in October that it planned to close the plant this year, in a move that would put more than 200 jobs at risk.
Staff were told on Wednesday that a rescue bid, proposed by local management at the factory, had been rejected by Schlumberger's corporate management team.
The counterproposal "offered a way to save some of the jobs on site through production diversification", according to Unite's regional officer, Susan Fitzgerald.
She criticised the firm for rejecting the idea, claiming its corporate management "remain intent on off-shoring production to low-cost centres in Mexico and China and back to the United States".
'Terrible news'
Ms Fitzgerald said Unite wanted to know "whether the corporate management team have been motivated by the 'America First' perspective propounded by Washington?"
The Ulster Unionist Party's finance spokesman, Steve Aiken, said the Mallusk job losses, coupled with the breakdown in the Schlumberger talks, was "terrible news" for Northern Ireland's manufacturing industry.
He added: "If ever we needed manufacturing strategy, it is now."
South Antrim MP Paul Girvan said it was yet another devastating blow to the area's economy.
"Williams Industrial Services are a long established and highly respected manufacturing firm and news of their going into administration is a huge shock," he said.
"I am seeking an urgent meeting with the administrators to see if anything can be done even at this stage.
"It is also vital that those facing immediate redundancy are given the support they need at this difficult time."
'Worried'
Alliance MLA Stewart Dickson said: "This news is deeply troubling, and my first thought is with the workers and their families who will be affected by this.
"This is no reflection on the staff at Williams or Schlumberger, or their skills. Despite the valiant efforts by employees and trade unions, there will now be many who are worried about the future of their employment."
Mr Dickson added: "It is crucial anyone made redundant receives support and guidance to assist them with their next steps, and help them to find other suitable employment. That action is of course sadly made more difficult with the lack of an Executive in place."
'Get back round the table'
SDLP MLA for North Belfast Nichola Mallon said the news was a "double blow".
"It is important that all possible assistance is given to the workers at William Industrial Services by the Department for Economy and Invest NI to ensure they get all they are entitled to, and they are supported to find alternative employment quickly," she said.
"It is also imperative that management and the union side get back round the table to see if the talks to save jobs at the Schlumberger plant can be salvaged."