Horslips outrage about use of song at 'Irexit' event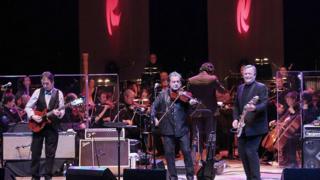 Irish rockers Horslips have hit out after one of their best-known songs was used at a so-called "Irexit" event in Dublin at the weekend.
Dearg Doom was played at a conference organised by a group calling for Ireland to leave the EU.
On their Facebook page, the band said the "saddos had the feckin' temerity" to use their recording and they would be seeking legal advice.
But the organisers said the band should be "thankful" their music was played.
Horslips, regarded as the founding fathers of Celtic rock, formed in 1970 in Dublin and "retired" a decade later. They have since reformed for a number of gigs.
'Flop hairstyles'
Organisers of the Irexit: Freedom to Prosper conference said about 600 supporters turned up at the RDS on Saturday, where former UKIP leader Nigel Farage was among the speakers.
In their Facebook post, Horslips described those who attended as "Little Irelanders".
"Horslips stood for a hopeful, outward looking, inclusive vision of Ireland with plenty of drink and a Blue Range Rover.
"This lot stand for a diminished, fearful, xenophobic state."
They added that they were "checking out whether we can do them for copyright infringement".
But event organiser Hermann Kelly, from Londonderry, said: "They should be damn thankful we played their music, few other people listen to it now."
Mr Kelly, spokesman for the Europe of Freedom and Direct Democracy group in the European Parliament, said that the Horslips' political views were "as out of touch as their 1970s flop hairstyles".
He called on the band to "start being proud Irishmen rather than European Unionists".
"Stop acting as a warm-up act for a single EU Super-state, which dictates the majority of our laws and bleeds us dry with the increasing contributions we have to fork out for," he added.
Adele v Trump
Niall Stokes, editor of Hot Press magazine, said the song was probably chosen just because it had a "great riff" to welcome people on to a stage.
He said Horslips could seek damages for their music being "associated with this ridiculous attempt at getting a xenophobic movement off the ground in Ireland".
This is certainly not the first time that music has been used at political events without the artist's permission.
During the US republicans' 2012 presidential campaign, Thin Lizzy's hit The Boys are Back in Town was played at a party convention.
The mother and wife of the late Phil Lynott, frontman of the Irish rock band, complained, saying there was no way the singer would have supported the Republican candidate.
Pop star Adele issued a statement to distance herself from Donald Trump, after he used her music at rallies during the 2016 US presidential race.
And in 2013, Thom Yorke warned then UK Prime Minister and Radiohead fan David Cameron that he would sue him if he used any of their music in election campaigns.