NI Paper Review: 'Crushing job losses' and a 'putrid' tweet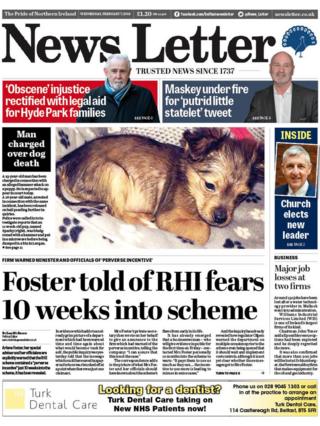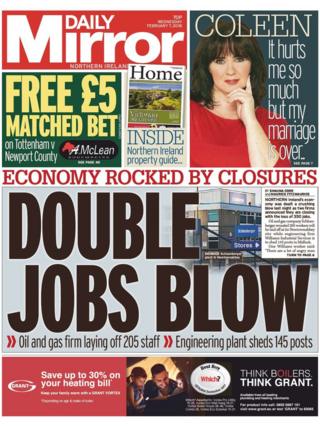 The Belfast Telegraph is leading with job losses, 440 in Northern Ireland in one day, the paper reports.
County Antrim engineering firm Williams Industrial Services in Mallusk has gone into administration.
In a separate development, talks aimed at saving the Schlumberger factory in Newtownabbey, County Antrim, have broken down.
The UUP MLA, Steve Aiken, told the paper that the jobs losses were a "devastating blow to the local economy".
The Daily Mirror's front page splash describes the losses as a "crushing blow" to the economy.
Its editorial says "Northern Ireland's manufacturing sector had its heart ripped out."
The same story makes the front page of the News Letter.
'Grim picture'
The News Letter's lead focuses on the role of the DUP leader, and former first minister of Northern Ireland, Arlene Foster, in the RHI scheme.
Mrs Foster was informed that the scheme contained a "perverse incentive" just ten weeks after it began, the paper reports.
The information came to light during the public inquiry into the flawed scheme on Wednesday.
The story, written by the paper's political editor Sam McBride, says the latest evidence "adds to an already grim picture of a department which had been warned time and time again about what would become 'cash for ash'."
The News Letter also gives considerable coverage to a tweet from Sinn Féin MLA Alex Maskey describing Northern Ireland as a "putrid little statelet".
The description has drawn the ire of unionist politicians.
The Belfast Telegraph also covers the story in detail.
The lead story in the Irish News covers a so-called 'paedophile hunter' group confronting an ex-GAA youth coach in County Antrim.
It is believed that the incident happened at the man's home at the weekend.
According to the Irish News the man was later arrested.
The man's house was later attacked by arsonists, the paper reports.
There is very little attention given in any of the papers to the on-going talks at Stormont aimed at restoring power sharing in Northern Ireland.